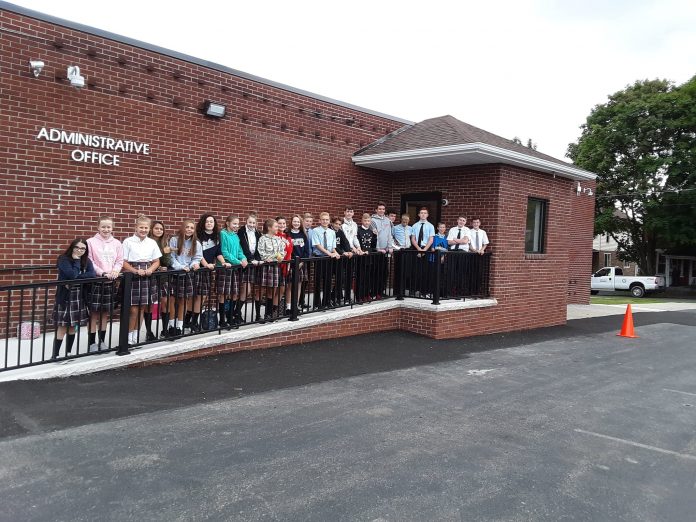 Summer has drawn to a close and another school year has begun at Holy Name School. This new year brings many changes and updates at our school. This column was prepared by members of the eighth-grade class.
One of the first changes at the school that our students and their families noted was the remodeled main entry. The entry way is now handicapped accessible with security upgrades. The school also has new business offices.
Other changes throughout the school include remodeled restrooms on the Primary and Intermediate Departments that are handicapped accessible. The main school building also received new roofing.
The school website also has a new look for the new school year.  The website is now managed by Affinity and has relocated to a new web address. Visit holynameschool.net to see all that our school has to offer.
We also welcome a new pastor to Holy Name School. Father Brian Warchola will celebrate his installation as Pastor of Holy Name Parish on Friday, August 30 at 9:30 A.M. at our opening school Mass.  We will also say good-bye to Monsignor David Lockard. When your schedule permits, please join us throughout the year for Mass every Friday at 9:00 A.M.
The Home and School Association Meeting is scheduled for Wednesday, September 4, 2019 at 6:30 P.M. in the church hall. Following the General Meeting, parents can visit the classrooms to meet the teachers and learn more about our classroom procedures and curriculum.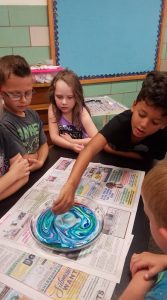 Although our school was undergoing many changes this summer, that did not stop our students from participating in fun and exciting learning opportunities. The faculty and staff offered five different summer camp programs to the students of Holy Name School. Those who were entering kindergarten were invited to participate in a Getting to Know You Kindergarten Camp. This camp not only allowed the incoming students to meet their new teachers and the staff, it enabled them to establish friendships with other students who were entering kindergarten before the first day of school.
The remainder of the camps were themed and open to students entering kindergarten through fifth grade. Celebrate the Arts allowed students to examine the work of various artists and practice their techniques. Participants also learned about the elements of music such as rhythm and beat. Amusement Park Engineering encouraged student teams to use their imaginations to build roller coasters, design and construct prototypes of unique rides, and program robotic bumper cars.
Those who participated in the Crime Scene Investigations camp were super sleuths and used their eye for detail and evidence collecting skills to solve crimes. The Wizards and Potions camp was truly magical. Those who attended studied color changing potions, cracked wizard codes to uncover jokes, concocted several varieties of slime and created their own magical creatures. Check back in the spring to see what special camps will be offered next summer.
Our final quote is from Nelson Mandela: "Education is the most powerful weapon which you can use to change the world."
[Top Photo: Holy Name School eighth grade students prepare to enter the building via the newly renovated main entrance, one of the security upgrades completed this summer.]
[Middle Photo: Campers create a colorful potion using the concept of surface tension at Wizards and Potions Camp at Holy Name School.]
[Bottom Photo: Budding wizards created magnetic slime  at Holy Name School during Wizards and Potions Camp.]