By Tony DeGol
Proclaim!
A remarkable day in the life of the diocese has inspired the theme for the upcoming celebration of the Knights of Columbus.
Every year, Bishop Mark joins his brother Knights from all councils within Altoona-Johnstown for a Mass and dinner. The 2019 gathering is scheduled for October 13 with a Liturgy at 2:00 p.m. at the Basilica of Saint Michael the Archangel in Loretto. The Mass will satisfy the Sunday obligation. The banquet will follow at the Our Lady of Loretto Community Hall, next to the Basilica.
The theme for this year's celebration is "The Impact of the Relic Pilgrimage of Saint John Vianney on the Spiritual Life of the Knights of Columbus and the Life of the Church."
I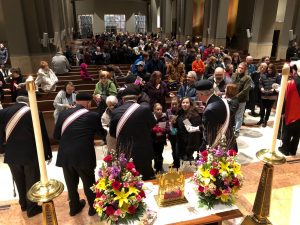 t stems from the marvelous day earlier this year when the Knights of Columbus graciously brought the Uncorrputed Heart Relic of Saint John Vianney – patron saint of priests – to the Cathedral of the Blessed Sacrament in Altoona.
Despite arctic weather on that January day, an estimated 2,000-3,000 individuals packed the Cathedral throughout the day for veneration of the relic, Masses, and the Sacrament of Reconciliation.
The special guest and keynote speaker for the October 13 event will be Peter Sonski, Education Manager for the Knights of Columbus Museum in New Haven, Connecticut. Sonski was also the Custodian for the Heart Relic when it came to Altoona for veneration.
Other guests have been invited to the celebration, including the State Deputy and the State Chaplain of the Knights of Columbus.
"I am especially grateful to all the members of the Knights of Columbus for the many activities that you undertake and initiate in our diocese," assured Bishop Mark in his invitation to his brother Knights. "It is a pleasure to celebrate this special Mass and share this dinner with you on a day that has become an annual event. I look forward to the opportunity to be with you."
The cost of the dinner is $15 for adults and $7.50 for children 12 and younger. Reservations are required by September 28 through William Stasko, CPA, 8 Entrance Drive, Johnstown, PA  15905.