Column by Sarah Farabaugh I miss the Eucharist. I miss going to Mass. I miss hearing happy news. I miss my family. I miss my...
Column by Jonathan Nagy On the evening of September 6, 1780, while spending the night in a cabin high atop the Kickelhahn Mountain near Ilmenau,...
By Sister Linda LaMagna, CCW Many people find it easy to define the Eucharist and connect it well to our Saturday/Sunday experience of going to...
Father Paul R. Taylor, O.S.B., Ph.D., a Benedictine monk and executive vice president, has been named the 18th president of Saint Vincent College, effective...
By Tony DeGol Proclaim! Not many little boys are lucky enough to find a mentor who will still influence them later in life. David Micik found that...
By Jo-Ann Semko After months of planning, we are eagerly anticipating the start of a new school year. Over the summer months, many of our...
Column by Bonnie Finnerty It's been almost a half century, yet two Supreme Court decisions still divide our nation. In 1973, Roe v. Wade and...
A Reflection by Justin Kirkland During Advent, we all look forward to celebrating the birth of our Savior on Christmas Day, but here in the...
Commentary By: Elise Italiano Ureneck Twelve years ago this month, I taught my first theology class at an all-girls high school. Fresh out of graduate school,...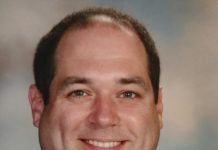 Column by Jonathan Nagy Every year when the calendar turns to August, many begin to prepare for the start of a new school year. Teachers...
The sixth Novena of 2019 to Our Lady of Mount Carmel and Saint Therese (the Little Flower) offered by the Discalced Carmelite Nuns of...