Saint Michael School will host its 40th Annual Arts & Crafts Show on Saturday, October 19th and Sunday, October 20th at Our Lady of Loretto...
By Father Rich Tomkosky Jesus Christ is the King of the universe and wants to be the King of each individual human being on earth....
Column by Jonathan Nagy In 2003, Mitch Albom wrote the inspiring novel, The Five People You Meet in Heaven, which followed the life and death...
Mount Aloysius College's campus is buzzing with excitement for the start of the Fall 2019 semester. Mountie Freshmen will move-in Thursday, August 22 beginning...
By Tony DeGol Proclaim! Not many little boys are lucky enough to find a mentor who will still influence them later in life. David Micik found that...
By Father Rich Tomkosky We are called to bear a rich harvest of spiritual fruit in the Lord's vineyard. How can this happen? Only if...
Column by Jonathan Nagy What do Saint Augustine, Saint Elizabeth Ann Seton, John Wayne, Buffalo Bill Cody, Saint Paul, Jane Roe (from the case of...
Column by Andre McCarville "I'm pretty sure my kid is doing ok. They don't seem to get into trouble. They just kind of sit up...
Commentary by Monsignor Renzo Pegoraro People can be confident that the approved COVID-19 vaccines are safe and ethical and that receiving the vaccine is an...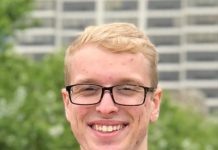 Column by Justin Kirkland Recently, as he campaigned through South Carolina, former Vice President Joe Biden was denied Holy Communion during a Sunday Mass. The...
The 38th annual Birth of Mary Celebration will be held on September 8 at Saint Catherine of Siena Parish in Duncansville. The theme will...