Submitted By Sam Wagner Mount Aloysius College was awarded a grant from the American Society for Clinical Pathology (ASCP) for use in the Medical Laboratory...
Column by Cindy O'Connor January is Poverty Awareness Month, a month-long initiative to raise awareness and call attention to the growth of poverty. Across the...
Column by Jonathan Nagy As I began thinking about what I wanted to focus my article on this month, I knew I wanted to write...
From Mount Aloysius College Mount Aloysius College in Cresson cut the ribbon on a new, state-of-the-art anatomage table on January 19. According to the Anatomage...
Watch Proclaim! every Sunday at 10:30 a.m. on WATM ABC 23 followed by the live broadcast of the Sunday Mass from Saint John Gualbert...
Editor's Note: The following is the latest in a series of inspirational stories of conversion to the Catholic faith. This month, Director of RCIA...
Column by Jonathan Nagy Many people have never heard of Don LaFontaine, but almost everyone has heard his voice. Over his career, LaFontaine recorded over...
Column by Jonathan Nagy Many, myself included, feel like saying, "Good riddance!" to 2020! While there has been plenty of good, the bad seems to...
Column by Andre McCarville Marriage. What does it mean? Why is it important? Is it outdated? Do we really need to have marriage anymore? Questions like...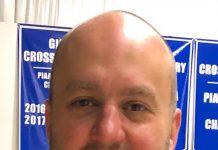 Column by Father Jonathan Dickson A couple of weeks ago when I began thinking about this article I happened to be preparing a Sunday homily,...
Nikolas Christine was a social studies teacher for a brief time at Our Lady of Victory Catholic School in State College, but he was...