Youth Week was celebrated at Saint Augustine Parish in Dysart and Saint Monica Parish in Chest Springs during the week of June 17. Forty...
By Tony DeGol Proclaim! Like it or not, moms are always right. So says Will Smith as he thinks back to some words of wisdom from his...
Column by Sarah Farabaugh I miss the Eucharist. I miss going to Mass. I miss hearing happy news. I miss my family. I miss my...
Saint Francis University is pleased to announce developments related to two new initiatives carefully designed to support and enhance its Catholic, Franciscan identity. Founded...
Watch Proclaim! every Sunday at 10:30 a.m. on WATM ABC 23 followed by the live broadcast of the Sunday Mass from Saint John Gualbert...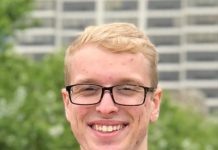 Column by Justin Kirkland Recently, as he campaigned through South Carolina, former Vice President Joe Biden was denied Holy Communion during a Sunday Mass. The...
Column by Dr. Patrick Manning This moment is unlike anything that almost any of us has ever experienced. The tally of sick and deceased mounts...
By Al Gnoza Pennsylvania Catholic Conference In the coming weeks and months the PA Catholic Conference will be working on the issue of increasing nurse coverage...
Editor's Note: This is an on-going series spotlighting individual journeys toward initiation in the Catholic Church. This month's story is from Stewart Van Horn,...
Column by Andre McCarville On May 8th, the Family Life Office and Immaculate Conception Parish in New Germany hosted the Mass for Widows and Widowers....
By Tony DeGol Proclaim! Altoona-Johnstown is blessed by the presence and service of the Capuchin Franciscans, and that religious community is blessing the faithful of the...