Bishop Bartchak wishes to advise the faithful of the Diocese of Altoona-Johnstown that a person by the name of John Tokarick, Jr. may be...
By Father Rich Tomkosky We are all called by God to grow in holiness on a daily basis by living a life of Catholic integrity...
By Father Rich Tomkosky One thing we all should know, as we go through life here on earth and try to hopefully live our Catholic...
From Mount Aloysius College Mount Aloysius College, in affiliation with UPMC Altoona, UPMC Bedford, and UPMC Somerset, announced today a new opportunity for individuals interested...
By Tony DeGol Proclaim! Not many little boys are lucky enough to find a mentor who will still influence them later in life. David Micik found that...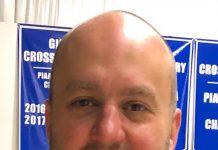 Column by Father Jonathan Dickson As I write this article, we are in anticipation of our all school retreat, which will take place on August...
Column by Jonathan Nagy "For I know the plans that I have for you,' declares the LORD, 'plans for prosperity and not for disaster, to...
Column by Bonnie Finnerty It's been almost a half century, yet two Supreme Court decisions still divide our nation. In 1973, Roe v. Wade and...
Column by Jonathan Nagy "No Catholic school can be effective without dedicated Catholic teachers, convinced of the great ideal of Catholic education. The Church needs...
Editor's Note: The following is the latest in a series of inspirational stories of conversion to the Catholic faith. This month, Director of RCIA...
By Tony DeGol Proclaim! A phone call nearly three decades ago began a journey for Tracy Smith that culminated this past summer. Smith, who was raised in...