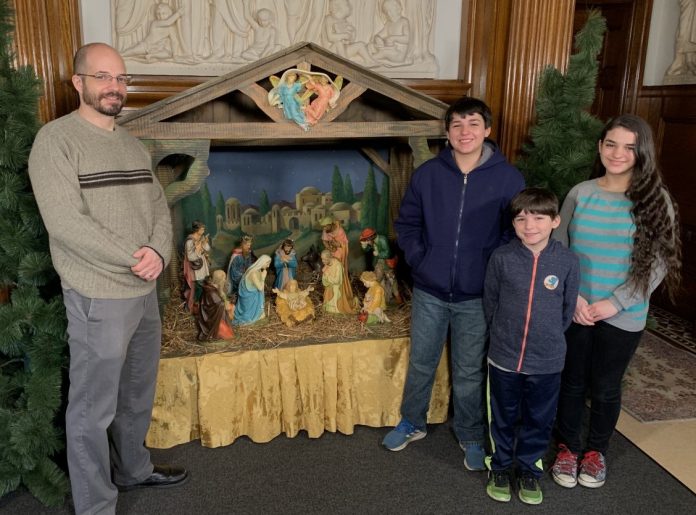 As part of its continuing efforts to keep local Catholics connected during the coronavirus pandemic, the Diocese of Altoona-Johnstown is pleased to offer expanded television opportunities through its Proclaim! TV Ministry this Christmas.
Bishop Mark Bartchak will celebrate Mass on Christmas Eve, December 24, at Saint John Gualbert Cathedral in Johnstown, which will air live at 7:00 p.m. on WWCP FOX 8.
The Christmas Day Mass at Saint John Gualbert will air on a tape delay basis at Noon on WATM ABC 23 with the Very Reverend James Crookston, Rector of the Cathedral, as celebrant.
"The diocese has televised the Christmas Day Mass for a number of years," said Tony DeGol, diocesan spokesman. "This year, however, we felt it was important to offer a broadcast on Christmas Eve as well."
Bishop Bartchak continues to waive the obligation to attend Sunday and Holy Day Masses, and the diocese understands that some local Catholics may choose to not attend Christmas Liturgies out of concern for their health and safety. Sadly, some parishioners will be unable to attend because they are actually battling COVID-19 or remain in quarantine because of exposure to the virus.
"Our parishes are prepared to safely welcome the faithful at Christmas Masses, and the televised Masses will be an added blessing this year," DeGol said. "Bishop Mark looks forward to celebrating the birth of Jesus with the TV audience on Christmas Eve and with those who will be physically present at the Cathedral."
This year, the diocese is also presenting a television special "Joy to the World: Christmas in the Diocese of Altoona-Johnstown."
Hosted and produced by DeGol, the two-hour show will highlight beloved Christmas traditions, the overwhelming spirit of giving, and beautiful music from parish and school musicians.
Bishop Bartchak will share some of his cherished Christmas memories with his family, and he will offer a message of hope for Christmas and the new year.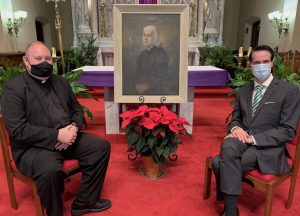 The Very Reverend John Byrnes, JCL, JV, Rector of the Basilica of Saint Michael the Archangel and Judicial Vicar for the Diocese of Altoona-Johnstown, will recall the history of Christmas in Loretto dating back to the first Christmas Midnight Mass celebrated by the Prince-Priest and Servant of God Demetrius Gallitzin.
The Very Reverend Frank Scornaienchi, TOR, Pastor of Our Lady of Mount Carmel Parish in Altoona, will spotlight the Presepio (Italian Nativity) and other Italian Christmas customs, and Father Jozef Kovacik, Pastor of Saint Matthew Parish in Tyrone and Administrator of Saint Joseph Parish in Bellwood, will recall traditions from his years growing up in Slovakia – some of which he continues here in America.
Diocesan Director of Family Life and Missions Andre McCarville, along with some of his children, will celebrate the importance of the Nativity as a symbol of Christmas, and Diocesan Youth Ministry Coordinator Francine Swope will have a virtual chat with young adults about the joy of Christmas in their lives.
The Greater Johnstown Diocesan Festival Choir, the Good Shepherd, Port Matilda, Zoom choir, and Vox Nova from Mount Aloysius College in Cresson will be among the featured musicians, along with students from Divine Mercy Catholic Academy in Johnstown and Our Lady of Victory Catholic School in State College.
"This really is a Christmas like no other, but it is still Christmas," DeGol mentioned. "This special show will remind us that Jesus is still with us, which is the greatest gift we could ever receive. No matter what else is different this year, even a pandemic cannot stop us from welcoming the newborn Christ in our heart."
"Joy to the World: Christmas in the Diocese of Altoona-Johnstown" will air on
December 20 at 1:00 p.m. on WATM ABC 23 and on Christmas morning at 7:00 a.m. on WWCP FOX 8.
[Photos: (Top) Andre McCarville and his children celebrate the Nativity; (First Inset) The Good Shepherd Zoom Choir; (Second Inset) Father John Byrnes and Tony DeGol; (Third Inset) Francine Swope and young adults; (Fourth Inset) Musicians Terry Tomassetti and Jean Ann Mitchell of Saint Mary Parish in Altoona; (Fifth Inset) Musicians Jonathan Nagy and Monica Hogue of the Basilica of Saint Michael the Archangel in Loretto.]