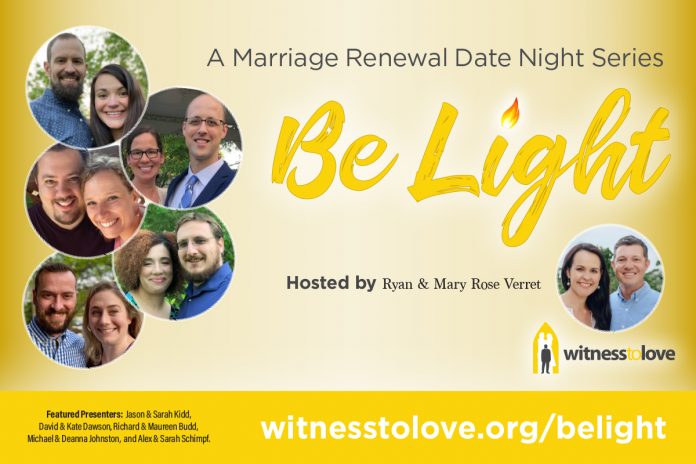 Date nights at a restaurant or a movie theater are out of the question right now for married couples, so how about an even more enriching experience?
The Diocese of Altoona-Johnstown Family Life Office is providing the opportunity for local couples to join others from around the world in "Be Light," a virtual marriage renewal date night series.
The five night series begins on April 26 and concludes on April 30. It is sponsored by Witness to Love, a marriage preparation program that works to connect couples to their parishes through mentors and online resources.
Topics to be explored include belonging, expectations, the need for community, couples works of mercy, and living as missionary disciples. The series promises to take a deep dive into catechesis, marriage formation, and evangelization. 
"During this pandemic, many families have more time because there aren't as many extra activities pulling them in different directions," said Andre McCarville, Diocesan Director of Family Life and Missions. "I'd encourage everyone to take this opportunity for marriage enrichment. While some marriages are struggling from the additional time spent together, even good marriages can benefit from it. We are very pleased that a great organization like Witness to Love is offering this at this time."
There is no cost to participate. Click here for more information and to register.
The following are the featured presenters for the series with some background information about the couples, courtesy of the Witness to Love website:
Jason and Sarah Kidd have been married 16 years and live in greater Portlandia. They have four children, who bring them much joy and patience. Jason serves as the Director of the Marriage and Family Life Office for the Archdiocese of Portland in Oregon, President elect on the NACFLM board, as well as the NW Regional board for Alpha. He received his MA in Theology from the University of Notre Dame. Sarah Kidd holds dual degrees in Elementary and Special Education; however, she took a break from the classroom to be a full-time mom. Sarah is passionate about Jesus, raising joyful kids, ecumenism, hospitality, and strong coffee. As a family, the Kidds love camping, road trips, new adventures, and rice Krispy treats.
David and Kate Dawson have been married for twelve years and have eight beautiful children. David is the Director of the Office of Marriage and Family Life for the Archdiocese of New Orleans, but Kate does all the real work at home. David and Kate are responsible for helping to make the Domestic Church movement available in English in the United States. Domestic Church began in Poland with the help and support of St. John Paul II, and it exists to provide Sacramentally married couples with formation for growing in holiness together as a couple.
Richard and Maureen Budd live near Lansing, Michigan and have been married for five years with three children. Before getting married, Richard received his Master's Degree from the Pontifical John Paul II Institute for Studies on Marriage and Family and worked in parish ministry while Maureen graduated with a Bachelor's in Business and worked in Marketing for about ten years. Since they've been married, Rich works as the Director of Marriage and Family Life for the Diocese of Lansing and Maureen has been a full time stay at home mom. They enjoy sharing their gifts and leading others to a fuller relationship with God.
Michael and Deanna Johnston met on Catholic Match in 2010 and got married in October 2013. They live in East Texas with their 4 children (Alexandria, Simon, Elena, and Leo) and a chicken named Patricia. Michael and Deanna both have a bachelor's degree in Philosophy and an MA degree in Theology. Michael is a high school theology teacher, and Deanna is the Director of Family Life for the St. Philip Institute of Catechesis and Evangelization in the Diocese of Tyler.  
Alex and Sarah Schimpf live in Oklahoma City, OK, where Alex works as the Director of Marriage and Family Life Ministry for the Archdiocese of Oklahoma City. Sarah is a freelance event planner and a stay-at-home mom. They have been married for 10 years and have been blessed with four children: Xavier (9), Gideon (7), Edith (5), and Antigone (1.5). Together they also serve as the Regional Couple for the Domestic Church Movement.