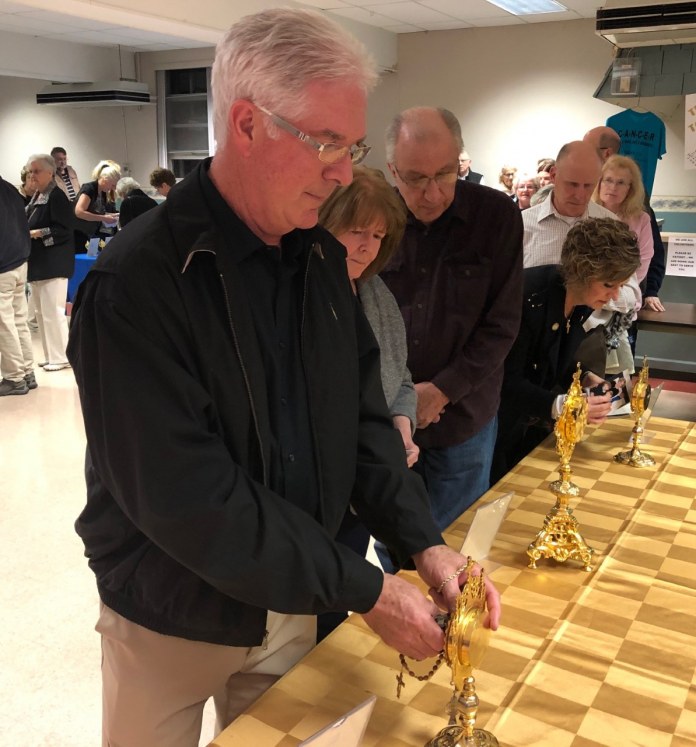 By Tony DeGol
Proclaim!
Picture a man born paralyzed who spent all of his 55 years in a wheel chair.
He attended an exhibition of the relics of saints in Houston, and, according to Father Carlos Martins, placed his hands on one of the relics and walked home.
Not long after that, a nine year old girl battling cancer attended a similar gathering. With a large tumor poking out of her abdomen, she, too, placed her hands on a relic.
Although she did not notice any immediate change, when she got into her parents' car to go home, there was no tumor on her lap, Father Martins assured. Her cancer was healed.
"This is what God chooses to do through the relics of his saints," explained Father Martins, a member of the religious community Companions of the Cross.
Father Martins visited Our Lady of Lourdes Parish in Altoona on April 16 – Tuesday of Holy Week – with Treasures of the Church, a teaching and exhibition of sacred relics of saints.
He visits churches, schools, and prisons around the country to, in his words, help people experience God through the relics of His saints.
"Every saint lived his or her life as a giant billboard pointing to God," he noted. "But God in his mystery also points to his saints as his masterpieces of creation."
Before the roughly 500 attendees had the opportunity to experience the relics in the parish hall, they first listened to a message from Father Martins in the church.
A convert from atheism, he outlined what he considers to be four roadblocks that prevent God from fully entering into our hearts:
A refusal to attend Sunday Mass
A refusal to confess our sins through the Sacrament of Reconciliation
A refusal to fully disclose our sins in the Sacrament of Reconciliation
A refusal to extend forgiveness to those who have hurt us
"If you give God your heart fully and completely today, holding nothing back, then you will experience the presence and power of the living God today in a way unlike you've ever experienced before," promised Father Martins.
According to the Catechism of the Catholic Church, the veneration of relics is a common expression of piety.
From the Latin relinquo, a relic is a piece of a saint's body or an item used by him or her.
Among the roughly 150 relics present at the Our Lady Lourdes exhibition were a piece of the wood of the True Cross of the Lord, a fragment of the veil belonging to the Blessed Mother, and a fragment of a thorn from the Crown of Thorns.
Also present were a piece of the cloak of Saint Joseph, part of a stone from the cave at Monte Sant'Angelo, Italy, where Saint Michael the Archangel appeared, and a particle of bone from Saint Jude.
"Just to be here in the presence of these relics is very moving," said Roy Holtz, a member of Saint Augustine Parish in Dysart. "I feel so much power here tonight."
Holtz was particularly struck by the relic of Saint Peter.
"I walked by a lot of relics, but when I walked by Saint Peter, something hit me and I felt something there, so I touched my cross to the relic of Saint Peter," Holtz said, referencing the jewelry around his neck.
A convert to the faith, Deborah Santella felt honored to learn more about the saints.
"So coming here this evening is moving, spiritual, very holy, and a privilege that they came here to Central Pennsylvania to show this to our faith community," said the parishioner of Our Lady of Mount Carmel in Altoona.
"There are so many saints that I can think of that have a lot of meaning in my own life, so to see actual relics in person is pretty amazing," admitted Ryan Beiswenger, a member of Saint Joan of Arc Parish in Frugality.
Our Lady of Lourdes parishioner Allison Gressler was especially gratified by the exhibition.
"I feel a sense of a joy that our church is the church where this is happening," she said. "It's such a blessed time."
Home for his Easter break, diocesan seminarian Mark Groeger, jumped at the opportunity to attend. He compared it to the experience of the incorrupt heart of Saint John Vianney being present for veneration at the Cathedral of the Blessed Sacrament earlier this year.
"When you walk into the room, the feeling and spirit of holiness, and when you're actually holding the relics in your hand, it makes me feel so much closer to our Lord, and his Church, and the saints," he noted.
Not long ago, Treasures of the Church made a stop in Houtzdale in the Diocese of Erie. Rita Kibler, an Altoona resident and member of the Cathedral of the Blessed Sacrament made the trek and hoped it would soon come to Altoona.
She obviously got her wish.
"There are just no words to thank God for the wonderful experience," Kibler stated. "I'm so thankful to be here tonight."
Also present was the priest that hosted Treasures of the Church in Houtzdale, Father Marc Solomon.
"I couldn't believe we had 250 people in little Houtzdale, but they came from all over, and tonight, I think there's probably double here," he observed.
[Photo: Roy Holtz, a member of Saint Augustine Parish in Dysart, holds Rosary beads to a relic on display at Treasures of the Church at Our Lady of Lourdes Parish in Altoona.]