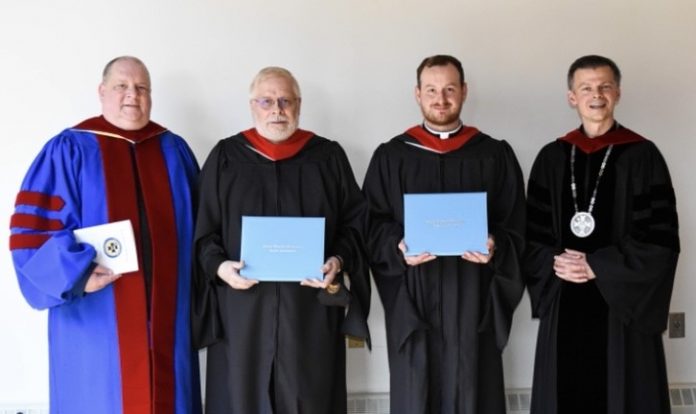 The two transitional deacons to be ordained priests on May 29 received their degrees from Saint Vincent Seminary in Latrobe.
During commencement exercises on May 21, Deacon Mark Groeger and Deacon Michael Pleva received a Master of Divinity Degree, completing their academic formation at the seminary.
Deacon Groeger is a member of Saint Peter Parish in Somerset; Deacon Pleva belongs to Holy Rosary Parish in Altoona.
During commencement on May 21, Deacon Pleva received the Honorable Judge Bernard F. Scherer Award given to the student who most exemplifies the qualities evident in the life of Judge Scherer, including breadth of learning, the integration of knowledge, faith and life, service to others through corporal works of mercy, and a strong witness of faith, hope and charity.
Saint Vincent also presented Deacon Pleva with the Diakonia Award for Student Service. The recipient is nominated by the entire Seminary community and chosen by the faculty. The award is given for outstanding academic performance, service to the community by contributing to student morale and spirit, leadership, and creative outreach.
[Photo: Deacon Mark Groeger (center left) and Deacon Michael Pleva (center right) hold their degrees from Saint Vincent Seminary following commencement exercises. Joining them are Reverend Patrick Cronauer, OSB, Academic Dean (far left), and the Very Reverend Edward Mazich, OSB, Rector (far right).]