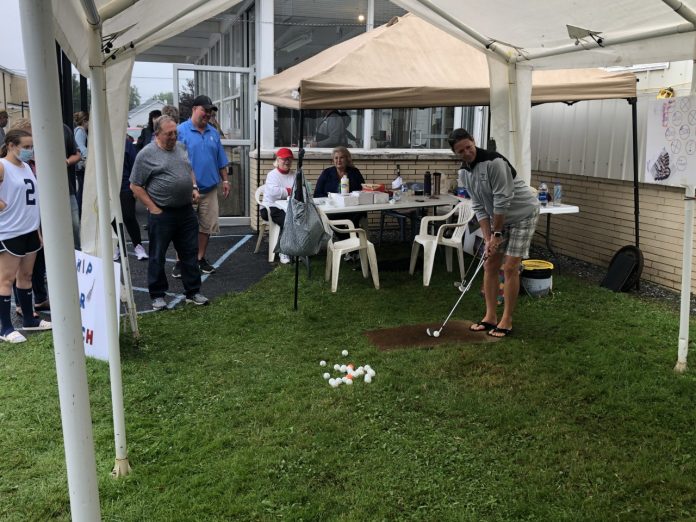 By Tony DeGol
Proclaim!
With a wide grin, Joe Hines revealed the secret to the legendary hot sausage sandwich at the annual festival for the Catholic Community of Cresson.
"I think it's all the care we put into it," disclosed the Knights of Columbus member while manning the food tent.
Beyond that, he was stingy with the other culinary details.
"One of our older members taught us how to cook it to make it really good, so we keep using his recipe."
Hines had a little extra time to chat because the Knights sold out of those irresistible sandwiches by late afternoon.
There was still other mouth-watering food, but for those yearning for the sausage, well, there is always next year.
Such was the success story for the 2020 festival on September 13 – a crowd so large that sell-outs were pretty common.
Because of the pandemic, the event was scaled back from two days to one this year, and some of the usual vendor and entertainment attractions were not featured.
The changes, and even a little rain, clearly did not deter folks.
"I think people were just eager to get out and about and spend some time with family and friends," mentioned Father Leo Arnone, Pastor of Saint Aloysius and Saint Francis Xavier parishes in Cresson, which, along with All Saints Catholic School in Cresson, benefit from the festival. "I'm very pleased with how things have turned out."
The basket fair with more than 170 baskets was another big draw. You guessed it – organizers ran out of tickets but managed to find more.
A rummage sale was featured, and a "Chip for Church" golf opportunity. Funnel cakes, as always, lured hungry people of all ages.
"It really is a great event for all of us – for the parishes here and for all Catholics," said Bob Sutton, a Saint Aloysius parishioner enjoying the gathering with his wife and children. "It's so family-friendly and so family-centered. It's really a blessing for us to be able to socialize and be able to raise money for the community as well."
The festival was born several years ago when the Heritage Days – a community celebration in Cresson – ended. Father Arnone rallied his parishioners and school community to build an event that would benefit the parishes and All Saints School.
This year, Father Arnone said the festival proceeds will help offset the dip in offertory the parishes experienced when public Masses were not celebrated in the spring.
"Thank you everyone for your participation and support," Father Arnone added. "We're very grateful to you. We look forward to seeing you next year!"
[Photo: A festival-goer tries at hand at golf (top); Steve Hines cooks up delicious fries at the Knights of Columbus food tent (inset).]