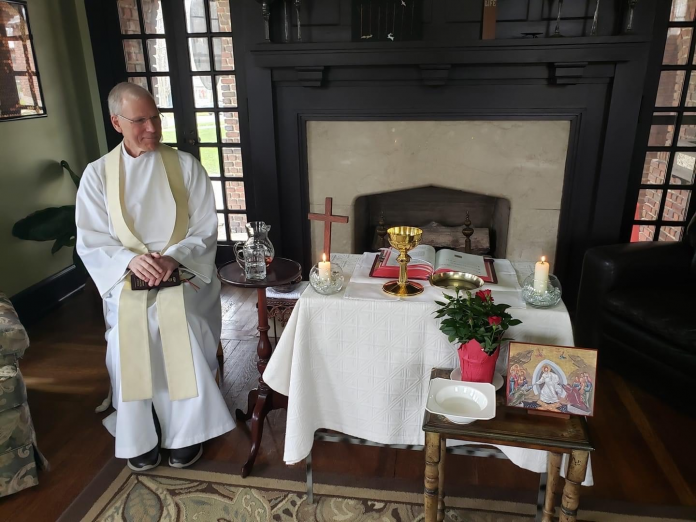 By Tony DeGol
Proclaim!
When the Very Reverend Mark Begly, VF, rolls out the welcome mat this weekend, it looks like a lot of feet will walk on it.
Father Begly, Pastor of Our Mother of Sorrows and Saint Michael Parishes in Johnstown, asked parishioners to sign up for the Mass they want to attend on June 13-14 when public liturgies resume. Many pastors are asking the same of their faithful to ensure the worship site can accommodate everyone with social distancing.
"I'm encouraged by the numbers for this Sunday," Father Begly offered.
That could be an understatement since the registration shows all of his Masses will be full.
It follows what Father Begly has been seeing over the past few weeks as a healthy number of people are turning out for Reconciliation and the Eucharist at OMOS.
It is, indeed, fitting that this return to public Masses falls on the Solemnity of Corpus Christi – the Most Holy Body and Blood of Christ, he noted.
"My homily is going to be about Sunday Mass being very important to more people than I thought," Father Begly said. "They do want to come back. They want the Eucharist."
While all of that is true, Father Begly realizes that these past weeks of pandemic have brought the Church to a turning point.
Our Mother of Sorrows is among the many faith communities that is embracing technology to keep Catholics connected.
Through YouTube, other social media, or their website, the parish is posting Sunday Masses, daily Liturgies of the Word, Facebook Live chats with the pastor, and lots of other spiritual content and information.
The parish also uses robocalls to share news with parishioners. This weekend, only a minimal number of bulletins will be printed, so parishioners will be encouraged to read them online.
Comparing technology to a church vestibule that welcomes people in, Father Begly shared the story of a woman who thanked him for the parish's virtual presence. She informed him that her husband has not been to church in a while, but will watch online.
Perhaps that man will eventually return, Father Begly theorized. 
"I think in the past we have seen Church as brick and mortar," he continued. "We have to broaden that scope. The old way of ministering to your people isn't going to work anymore. We have to do it differently."
In the meantime, Father Begly is looking forward to all those footprints on his proverbial welcome mat this weekend. After months of not gathering for public worship, they will all symbolize steps in the right direction. 
[Photo: (Top) Father Mark Begly looks at a temporary Altar in preparation for a recent taped Mass; (Inset) Faithful gather around Father Begly during a recent outdoor Liturgy of the Word/Holy Communion service at Our Mother of Sorrows Parish.]