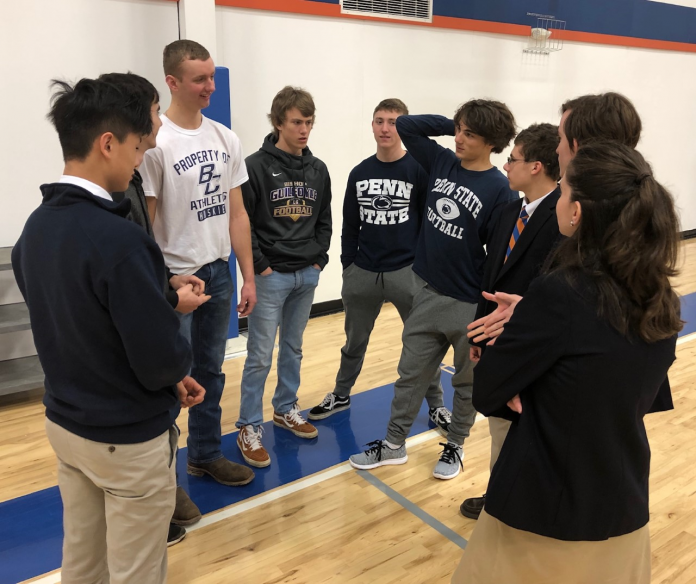 By Tony DeGol
Proclaim!
On the day of Bishop Mark L. Bartchak's ordination as Bishop, it might have been one of the most profound exchanges the new shepherd had.
A group of young people greeted him at the reception following the Mass and reminded him that most people acknowledge that youth are the future, but few seem to listen to them right now.
At that moment, the new bishop was, indeed, listening, and he continues to do so.
"It is very important for me to listen to you so that I can teach others, especially those who are responsible for your education and formation, so that we can get this right," he assured the teens gathered for Quad High Day 2019. "Your input is valuable."
The annual event invites student representatives from the four Catholic high schools in the diocese to join Bishop Mark for a frank discussion about matters of faith and other things on their mind. It was held on March 15 at Saint Joseph's Catholic Academy in Boalsburg.
After snacks and icebreaker activities to get to know one another, it was down to business.
The Bishop asked the kids to break into small groups to discuss various topics that stemmed from the Vatican's 2018 Synod on Young People.
After the group meetings, the real conversation began.
One of the key discussion items centered on truly listening to God.
"What's a way that you can hear God any time you want to?," Bishop Mark asked.
 Prayer is communication between us and God, he reminded.
"Any good communication involves speaking and listening," the Bishop continued. "You hear God through other people and at Mass, and one of the absolute sure ways you can hear God is if you develop a habit of every day reading at least one paragraph of the Bible. It's the Word of God."
Instead of reading, Bishop Mark also suggested using an app to hear someone recounting the Bible, which transitioned nicely into a discussion about the use of modern technology.
He spoke with the students about spiritual messages he could post on social media to engage more young people.
That is an idea welcomed by Matthew Steyers, a Saint Joseph's Catholic Academy senior.
"Our generation is very media-based," he noted. "It's not going away anytime soon."
Bishop Guilfoyle Catholic High School seniors Rachel Meintel and Elizabeth Yahner loved being part of Quad High Day.
"I just feel the environment is a safe zone to say what you're thinking," Yahner said. "Everybody has the same ideals and perspective as you."
Added Meintel: "This day has allowed me to think more in-depth about my faith and how I can get closer to God."
John Paul O'Connor, a junior at Bishop McCort Catholic High School was thrilled that Bishop Mark embraced the chance to hear from young people.
"I think this opportunity allows us to talk to the Bishop about our perspective, and I think he can see that we are all eager to learn," O'Connor noted.
After the discussion, Bishop Mark celebrated Mass and enjoyed pizza with the students.