Congratulations to young people throughout the Diocese of Altoona-Johnstown receiving the Body and Blood of Jesus for the first time through First Holy Communion. Parishes are invited to e-mail photos to Tony DeGol at tdegol@dioceseaj.org.
Resurrection Parish, Johnstown
Madsion Hamryszak, Bella Basile, Bailey Veney, Simon Wilfong, Norah Minor, and Hayley Bantley. Father George Gulash, Pastor.
Saint Bartholomew Parish, Wilmore
Father Joseph Nale, Pastor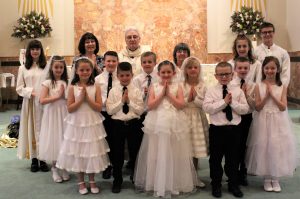 Holy Rosary/Saint Mark Parishes, Altoona
1st Row:  Mya LaRocco, Dominic Picciotti, Paytyn Herist, Bryson Heaton, and Evirleigh Gonsman. 2nd Row:  Miley Sinisi, Kruz Keith, Luke Gioiosa, Anna Hileman, and Brycen Monahan. 3rd Row:  Quinn Philips (Server), Suzanne Barry (DRE), Father Ronald Osinski, (Administrator and Pastor), Cathy Vorndran (Catechist), Gracie Gioiosa (Server), and Evan Sanders (Server).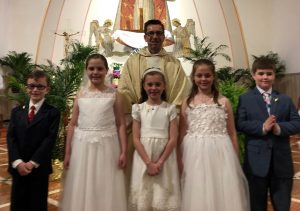 Sacred Heart Parish, Altoona
Father Lubomir Strecok, Pastor
Andrew Link
Ella Lauver
Kendyl Carney
Averee Dietzel
Elias Baker
Saint Mary Parish, Altoona
Father Lubomir Strecok, Administrator
Sophie Lovrich
Braden Jubeck
Dominic Sparacino
Megan Forlina
Hayden Stevens
Dane Lechner
Saint Mary Parish, Hollidaysburg
1st row: Zoey Burgan, Makenzie Roman, David Wolford, Jocelyn Logue, Dominic Baker, Nicolas Taddei. 2nd row: Obinna Anokwura, James Seymour, Louis Varljin, Noah Montgomery. 3rd row: Connie Curfman (DRE), Deacon Chuck Ahearn, Father Anthony Legarski (Pastor), Allan Duman (Acolyte), Cindy Shope (teacher).
Saint Benedict Parish, Johnstown
1st row: Sophie Smiach, Kyla Handzus, Jillian Radkowski, Mila DiPaola, Isabella Buchkovich, Isabelle Krotzer, Cara Vranich.  2nd row: Father David Peles, Pastor, Tyson Conrad, Patrick Shank, Sydney Kaseler, Rosalie McCreery, Brynn Urbanek, Mia Langerholc, Mylee Beyer, Brodrick Golesich, Johaan George, Francisco Timmons, Mrs. Laura Bernardo, Catechist.  3rd row: Mrs. Brenda Burket, Catechist, Isabella Niel, Ella Dabbs, Mya Magro, Dylan Brock, Kinzey Sorg, Maria Kutsick, Bennett Krotzer, Mrs. Michelle Robatin, Sacramental Preparation Director, Father Peter Crowe, Parochial Vicar. 4th row: Trevor Beblar, Evan Makdad, Alec Dolgas, Noah Doering, Ethan Lesneski, Connor Brett.  Absent from the photo: Deacon Michael Russo, Jireh Esteban, Indriani Robison, Logan Vaught, Zadyn Wadley.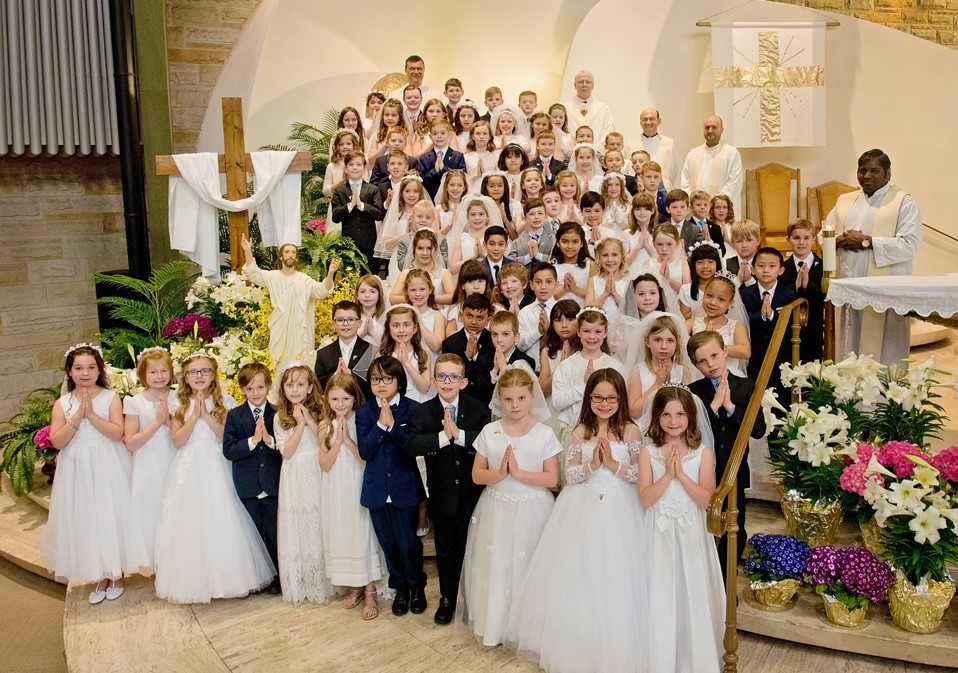 Our Lady of Victory Parish, State College
Father Neil Dadey, Pastor
Father Jonathan Dickson, Parochial Vicar
Father Antony Sudherson, HGN, Parochial Vicar
Deacon David Lapinski
Antonio Amill-Fabregas, Kipton Anderson, Madeline Arrowsmith, Nathan Benoit, Lane Blackstock, Crosby Bowen, Chelsea Brighton, Ignacio Broussard, John Brown, Brenna Bucher, Ryan Chambers, Max Chobody, Alivia Corneal, Caleb Crum, Anthonino Danneker, Harper Dare, Colin Dawson, Kathryn Dougherty, Liam Foytack, Sofia Gilroy, Kesley Glantz, Aidan Hayes, Dakota Haynoski, Isla Herbick, Cora High, Ayla Hildebrand, Paige Horn, Anntoinette Hyman, Mia Ishmael, Nicholas Johnson, Anessa Johnson, Keira Kampersal, Fiona Kennedy, Rylan Kessinger, Jason Khater, Emily Kopinski, Isabel Kurpeikis, Natalie Labosky, Taylor Langer, Nicolas Ledney, Cecilia Lorenz, Marissa Lucas, Teyo Lucchesi, Maya Lukac, Olivia Manno, Olivia Marshall, James Mason, Aryana McCleary, Jonathan Mignot, Cosette Miles, Nia Mobley, Matteo Ocampo, Petra Ozarski, Ava Paret, Declan Patrick, Victoria Pelka, Brynn Pezalski, Grant Potoczny, Anthony Poust, Alyssa Powell, Nicholas Pozniak, Catherine Pry, Usha Puts, Hayden Richards, Brady Rizzo, Allison Rusinque-Castro, Samuel Seman, Miranda Showalter, Caelyn Simpson, Caroline Siuta, Royal Smith, Clara Spak, Luke Swisher, Darren Tjiong, Maximus Vendemia, Christian Wenger.
Most Holy Trinity Parish, South Fork
Father Joseph Nale, Pastor
Carter Mackel
Holy Spirit Parish, Lock Haven
1st row: Kole Swartz, Olivia Reeder, Melanie Freeman, Lucia Lohman, and Gage Scanlan. 2nd row: Father Joseph Orr (Pastor), Sofia Kelley, Arabella Onuskanich, Zoey Allen.

Saint Augustine Parish, Dysart
1st row: Liam George, Evelyn Smithmyer, Makenna Ryan, Lane Lampenfeld, Aiden Owens. 2nd row: Tucker Link, Makayla Marino, Genevieve Snyder, Easton Kline, Brody Lidwell. 3rd row: Jane Stoltz, Father David Rizzo, JCL (Administrator), Maggie Sherry.
Saint Anne Parish, Johnstown
Father Bernard Karmanocky, OFM, Pastor
Kenley Buynack
Jack Mishler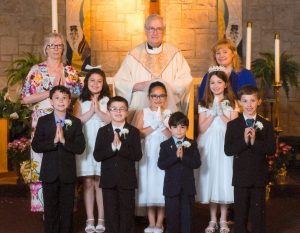 Saint Therese of the Child Jesus, Altoona
1st row: Matthew Eckenrode, Dylan Hawksworth, Paul McCarville, Mason Curfman. 2nd row: Elsie Behe, Bianca, Melgar, Sophia Miller. 3rd row: Mary Beth Schmidhamer (DRE), Father D. Timothy Grimme (Pastor), and Kim Etters (Teacher)
Our Lady of Mount Carmel Parish, Altoona
Very Reverend Frank Scornaienchi, TOR, Pastor

Saint Rose of Lima Parish, Altoona
1st row: Deacon James Woomer, Mileah Reighard, Michael Nardozza, Isabella Hardie, Brody Kenawell, Benjamin Himmelwright, Bernice Shoenfelt (DRE). 2nd row: Father Brian Saylor (Pastor), Timothy Clossin, Grace Garofalo, Ruth Stevens, Jordyn Lingafelt, Finn Heahey, Ashton Moyer, Gaige Reighard (Server), Jess Brunner (Catechist). 3rd row: Damon Misiura (Server), Evie Irwin, James Charlesworth, Thomas Kessinger, Gabrielle Gutshall, Kaley Misiura, Madigan Kephart, Father Carl Spishak (Senior Priest).
Saint Anthony of Padua Parish, Windber
Father Roderick Soha, TOR, Pastor
Saint Elizabeth Ann Seton Parish, Windber
Father Roderick Soha, TOR, Pastor
Saints Cyril & Methodius Parish, Windber
Father Roderick Soha, TOR, Pastor
Saint Thomas the Apostle Parish, Bedford
1st row: Thaddeus Clark, Daniella Pineda, Breanna Bollman, Kyla Lybarger, Declan Long
2nd row: Hunter Gorsuch, Billy Higgins, Matthew Milburn, Logan Cotchen, Gabriel Bordi
3rd row: Mrs. Chris Kline (CCD teacher), Madison Cotchen (Altar Server), Father Richard Tomkosky (Pastor), Addison Clark (Altar Server), Kowen Long (Altar Server).
Holy Family Parish, Portage
Father Thomas Stabile, TOR, Pastor
Saint Demetrius Parish, Gallitzin
1st row: Kendal Wessel, Nathan White, Raina Chislow. 2nd row: Debra Scholzen, Abigail Gongloff, Tyler Gaida, Erin Statler. 3rd row: Father Albert Ledoux (Pastor), Michelle Mentzer (Teacher).
Saint Michael the Archangel Parish, Hollidaysburg
1st row: Morgan Berkheimer, Samuel Consiglio, Claire Pratt, Breya Boland, Sydney Ulery, Maeve Peterson, Dominic Collins, Kaiden Collins, and Gage Boland. 2nd row: Jude Capone, Cooper Henry, Tyler Lightner, Addison Eash, Angelina Horon, Olivia Hartkorn, and Liam Shaw.
Saint Kateri Tekakwitha Parish, Spring Mills
Andrew Roger, Rileigh Weaver, Mac Clitheron. Father George Jakopac (Pastor)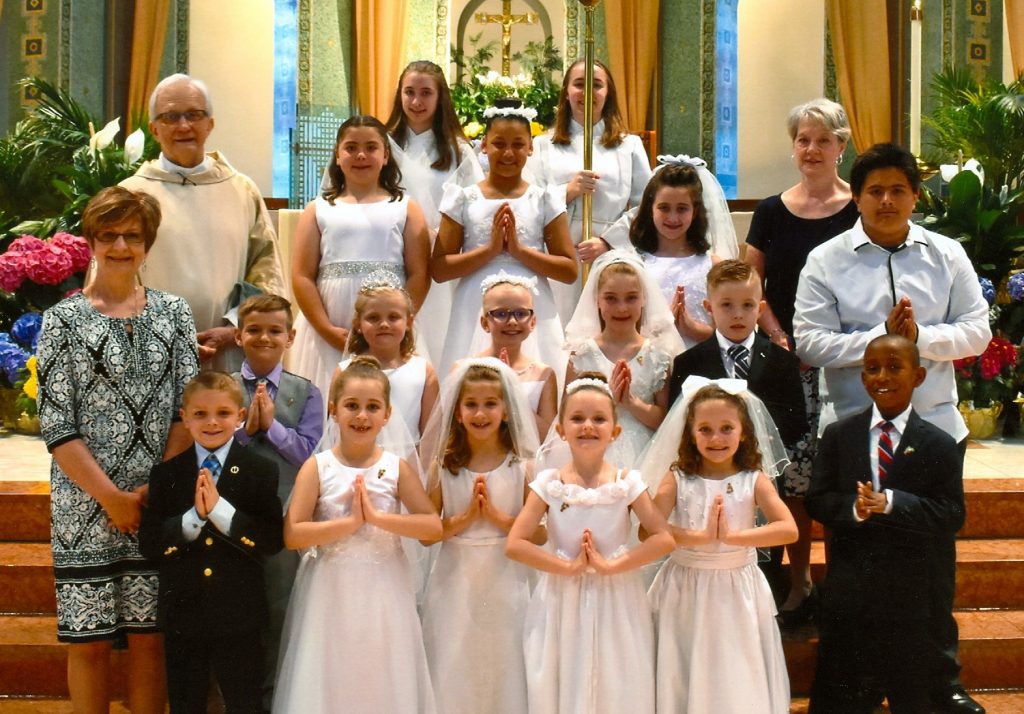 Cathedral of the Blessed Sacrament, Altoona
1st row: Elijah Weaver, Katelyn Koller, Grace Gregg, Cora Jones, Chloe Jones, Brian Dufrene. 2nd row: Kathy Hughes (Catechist), Ayden Koeck, Abigail Chverchko, Alyssa Eckenrode, Logan Settle, Landon Shellenberger, Ricky Batista-Ortiz. 3rd row: Father Dennis Kurdziel (Parochial Vicar), Morgan Geishauser, Felicity Rogers, Elaina Stinson, Christina Laraia (DRE). 4th row: Holly Butler, Olivia Butler (Altar Servers).
Saint John the Evangelist Parish, Bellefonte
1st row: Cayden Stover, Madylin Jones, Jessaline Price, Elizabeth Brezler, Addison Wynkoop, Emily Culley, Frank Cotter. 2nd row: Owen White, Daniel Yurick, Joshua McElhinny, Grayson Zinobile, Henry Soroka, Luke Eichfield, Blaise Adams, Paul Hacker. 3rd row: Henry Roland, Finn Kelleher, Ethan Karmelita, Dante Pighetti, Hayden Hildebrand, Derek Torres, Jack Tyson, Matisse Oden. Back Row: Deacon Tom Boldin, Father George Jakopac (Pastor). Not Pictured:  Religious Education Program Teacher – Miss Jennifer Gill and Saint John the Evangelist Catholic School Teacher – Mrs. Michelle Davis