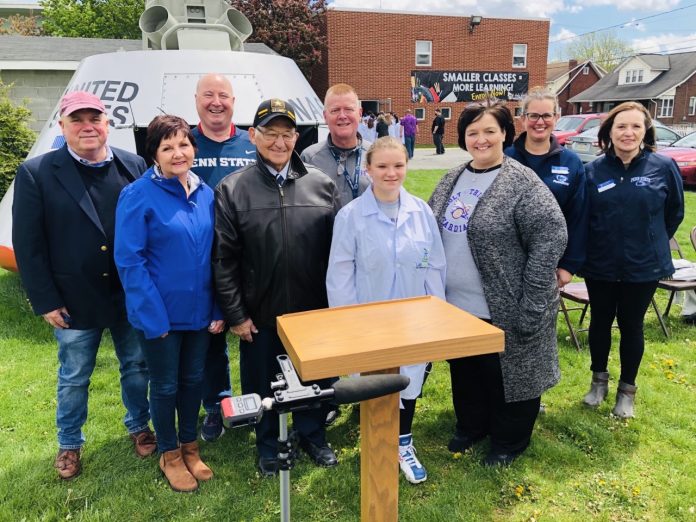 By Tony DeGol
Proclaim!
Outer space is a family affair for sisters Evie and Estella Koch.
"When I was six years old, I watched a Neil Armstrong movie, and since then I've been interested in space," admitted Evie, a fifth grader at the middle school campus of Holy Trinity Catholic School in Altoona.
That interest in space has led to an out-of-this world opportunity for Evie, eighth grader Estella, and their fellow HTCS classmates.
"My dad was interested in space too, and he liked restoring models of things," added Evie.
So when her father had the rare opportunity to restore an Apollo training capsule, he jumped at the chance. The finished product is now sitting in the school's front yard, and it will be converted to a greenhouse for a unique science project.
Students in Doug Reffner's Science classes will plant and nurture 100 tree seeds, collected by the students, from the Sycamore Moon Tree currently thriving in Hollidaysburg.
The seed for that very tree was flown to the Moon by NASA, aboard the Command Module of Apollo 14, in 1971.
Fast forward to today, and the Holy Trinity Catholic School students will nurture the one hundred seeds inside the Apollo training capsule as part of their Moon Tree Project.
"We are embarking on this together," announced Reffner during a recent outdoor assembly around the space capsule. "We have our crews – an eighth grade crew, a seventh grade crew, and a sixth grade crew. Our fifth grade crew is in the works."
The initiative is a hands-on learning experience for the students in both science and history.
"In 1907, President Teddy Roosevelt issued an Arbor Day proclamation to the school children of the United States about the importance of trees and the science of forestry and how it deserves to be taught in our schools," noted HTCS Principal Elaine Spencer. "Here in 2021 at Holy Trinity Catholic School, we are promoting what President Roosevelt said in 1907."
The baby Moon Tree saplings will eventually be distributed to students in classes throughout America.
The gang at Holy Trinity Catholic School, meanwhile, is savoring this unique opportunity to embrace learning in a way that cannot compete with any text book.
"Just having this at school and being able to work on it with friends and groups is really fun to do," commented Estella.
[Photo: Estella Koch, Principal Elaine Spencer, and others gather at an event announcing Holy Trinity Catholic School's Moon Tree Project.]