By Teresa Golden
For Proclaim!
A rainy Saturday morning did not stop locals from traveling to hear three priests present talks centered around the importance of the Eucharist.
Sister Linda LaMagna, CCW, and her team collaborated to sponsor another workshop in the diocese's "Beginning Again" series during this time of Eucharistic Revival in the Catholic Church in America.
The event featured informative and inspiring messages, straight from those who serve the people of our diocese.
Monsignor Stanley Carson, Administrator of the Cathedral of the Blessed Sacrament and Our Lady of Fatima Parishes in Altoona, opened the event with his lecture titled "Presence: Stay with Me, Lord."
He emphasized the importance of keeping Christ present in your heart, even after leaving Mass.
His messages inspire all to study and understand the True Presence and appreciate that gift each time we are in the presence of the Eucharist.
Click HERE to watch Monsignor Carson's speech.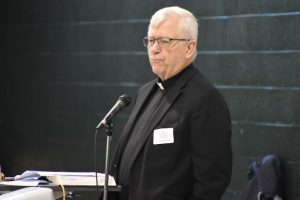 Monsignor Michael Becker, Pastor of Saint John the Evangelist Parish in Altoona, spoke on the topic of the True Presence of Christ in the Eucharist and how it can be a transformative factor in the lives of everyone.
His powerful words remind all that prayer and sacrifice each day leads all to a deeper union with Christ, especially with the gift of the Eucharist.
Click HERE to watch Monsignor Becker's speech.
Father Aron Maghsoudi, Pastor of Our Lady Queen of Angels Parish in Central City and Holy Family Parish in Hooversville, and Administrator of All Saints Parish in Boswell, presented the audience with a lecture that he called "The Eucharist Forming Us as a Community."
Father Maghsoudi's message touched the hearts and minds of the audience with his words on the necessity of the Holy Eucharist in the center of our communities and families each day.
He explains the power of unification in love for the Lord and how that can heal wounds and draw each person closer to God and to one another.
Click HERE to watch Father Maghsoudi's speech.
The three priests gave their speeches at the Diocese of Altoona Johnstown "Beginning Again" Eucharistic Revival event on October 14 at Father Kelley Hall at Saint Therese of the Child Jesus Parish in Altoona.
The event featured opening remarks and a blessing from Bishop Mark, the three keynote speakers, and videos of Catholics from around the diocese sharing how the Eucharist has impacted their lives.
Many thanks to those who have contributed to an attended these events as we participate in the Eucharistic Revival declared by the USCCB.