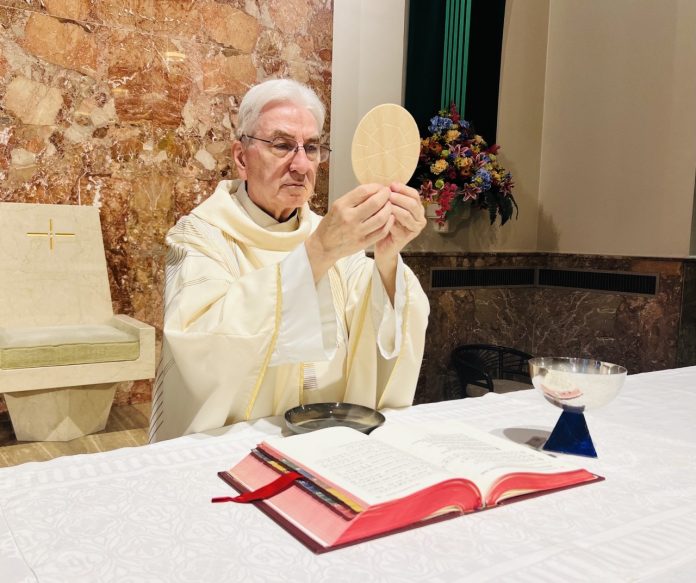 By Tony DeGol
Proclaim!
Never underestimate the intuition of grandmothers.
Father Ron Osinski learned that lesson through his own grandmother and a statement she made in her final days.
At the time, Father Osinski's parents had four sons, including young Ron. The grandmother assured Father Osinski's parents that one of their sons would be a priest.
Eventually, a fifth son came, but it was little Ron who ended up entering the seminary and, indeed, becoming a priest.
Now, 50 years after his ordination, he considers his grandmother's comment as the earliest seed planted for his vocation.
Father Osinski is the pastor of Saint Mark Parish in Altoona and Administrator of Holy Rosary Parish in Altoona.
Bishop Mark appointed him to Senior Priest Status, effective on June 29, 2022.
As he transitions to retirement and private residence, he is recalling cherished memories of his years in ministry and looking forward to the next chapter of his priesthood.
A native of Buffalo, Father Osinski became acquainted with the Diocese of Altoona-Johnstown through a high school buddy who was studying to be a Franciscan brother in Loretto.
"So I came down to visit him one summer, and I liked the area," Father Osinski recalled.
While attending Saints Cyril and Methodius Seminary in Michigan, the Diocese of Buffalo was experiencing a boom in vocations and ordaining a slew of priests every year, Father added.
He decided to consider other dioceses that were not enjoying the same good fortune, and all arrows pointed to Altoona-Johnstown.
"It has been a blessing in my life," Father said of his five decades here. "No one ever treated me like an outsider. Everyone was always welcoming, supportive, and encouraging. This is home."
And speaking of this home, Father Osinski experienced the joy of this eight-county diocese through his various assignments over the years.
Ordained on May 13, 1972, he served as parochial vicar at Saint Andrew Parish in Johnstown; Saint Patrick Parish in Johnstown; Saint John Cantius Parish in Windber; and Saint John Gualbert Cathedral in Johnstown prior to enlisting for a three year period as a chaplain, with the rank of Captain, in the United States Air Force.
After serving in the Philippines until 1983, Father Osinski was named parochial vicar at Saint John the Evangelist Parish in Bellefonte; and Saint Mark Parish in Altoona.
Prior to his current assignments at Saint Mark and Holy Rosary, he served as pastor of Saint Joseph Parish in Renovo; Saint Stanislaus Kostka Parish in Barnesboro; and Our Lady of the Sacred Heart Parish in Portage.
Father Osinski is a former dean of the Barnesboro, Allegheny, and Altoona deaneries.
He still has beloved relatives in Buffalo, and he certainly considers past and present parishioners here in the diocese part of his family, too.
"The people here have become an important part of my life," he assured.
Father is especially grateful to the faith community in Portage, which welcomed his parents there after they left Buffalo.
"People made it a point to take care of them, make them feel welcome, and give them a sense of belonging, like they were part of the diocesan family, too," he added.
Although he is retiring from active ministry, he will continue to live in the Altoona area, and he will fill-in occasionally at parishes.
With day-to-day administrative duties behind him, he is looking forward to praying more and relaxing. Reading, exercise, and travel are all on his to-do list.
Father Osinski has seen many changes in the Church since he was a young boy in Buffalo – including what he once considered unthinkable: celebrating Mass in English instead of Latin.
One thing, he insists, has not changed.
"You have to be open," he urged. "God is inviting us. The Church is where God wants us to be. The Church is changing, the Church has to change to grow, but it's rooted in tradition and in Jesus."   
Editor's Note: Father Osinski's look back at 50 years of priesthood and look forward to retirement continues on Proclaim! TV on July 17 at 10:30 a.m. on WATM ABC 23.