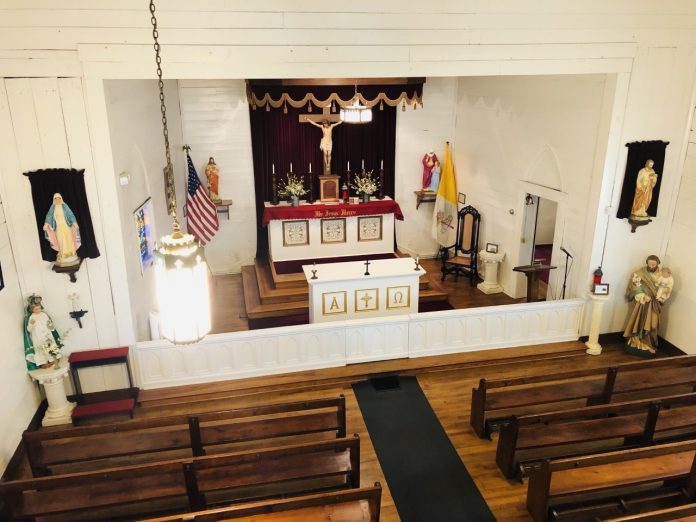 By Tony DeGol
Proclaim!
Sometimes life takes you full circle, and for Marian Farabaugh, that is a very good thing.
Farabaugh first became acquainted with Saint Joseph's Mission Church at Hart's Sleeping Place thanks to her parents.
"When we were little, they would bring my sister and me over here all the time, and we just grew to love this place," she recalled.
So much so, that Farabaugh knew it would be the setting for one of the most special days of her life.
"Growing up, I always dreamed that when I got married, I wanted to be married here," she added.
Now, many years and five children later, Farabaugh's love affair with the mission church is as strong as ever.
She is showing that love in a special way – as curator of the historic site.
"When we were asked to take care of it, it was an honor," Farabaugh admitted.
Located on Strip Road in Carrolltown, the mission church is the oldest church in the Diocese of Altoona-Johnstown.
Blessed by the Prince-Priest and Servant of God Demetrius Gallitzin in 1830, it was the center of Catholicity in northern Cambria County until 1850 when Saint Benedict Parish was established not far from the site. Now, maintained by the Diocese of Altoona-Johnstown, the log structure, hidden by white shingles, is one of Cambria County's most notable landmarks.
Surrounded by the graves of early settlers in the peaceful countryside, Saint Joseph's Mission Church bears silent testimony to the work of Father Gallitzin as well as the mission church's first pastor – Benedictine Father Peter Lemke – and the Benedictine community's ministry in America.
"This is the area where our Benedictine history started in the United States," explained Father Jude Brady, OSB, Pastor of Saint Benedict Parish in Carrolltown. "So for me, as a Benedictine monk, this is a very special and grace-filled place. To me, the stained glass windows are the most beautiful part of the building. As simple as they are, the windows really show the intimate history and the relationship that existed between Gallitzin and our Benedictine heritage."  
Regular daily or weekly Masses are not celebrated the church, but it is available for weddings and funerals. Bishop Mark traditionally celebrates a Mass at the location each October, and one of the most moving liturgies of the year comes on Christmas Eve.
"When you come here and look at the names in the cemetery, all these people's relatives come on Christmas Eve for Mass, so the church is full," described Father Brady. "They come with such reverence and a sense of desire because their relatives were the ones who were here, and we see that that history is carried on in them. To me, it represents really what Christmas is – the idea of Christ coming into the world as a source of goodness and holiness, offering Himself to us. When I see the names in the cemetery and the beautiful people who come, I see that that fidelity and constancy and that progeny has continued."
During this Year of Saint Joseph, the mission church is a focal point of the diocesan observances honoring the foster father of Jesus. On the first Sunday of each month this summer (up to and including September), the site will be open to the public from Noon to 3:00 p.m.
Besides the lovely church and grounds, there is plenty to see at the location, including a museum that truly showcases the legacy and charm of Hart's Sleeping Place.
"We actually have come up with a self-guided tour, so everyone is welcome," said Farabaugh. "They're guided with paperwork. They'll come through the church and museum and walk through the cemetery, and I'm here to answer questions if they have any."
On August 1 at 4:00 p.m., Bishop Mark will celebrate an outdoor Mass at Hart's Sleeping Place as part of the diocesan celebration for the Year of Saint Joseph. All are welcome to tour the church and grounds that afternoon and stay for Mass.
This site of holiness and solitude, according to Father Brady, is the perfect place for the faithful to immerse themselves in spirituality and history during this special year.
"In the Scriptures, we see that Saint Joseph really never talks, and his presence is so silent but so profound, and I think this place has that same character to it," Father Jude stated.
Like Father Brady, Farabaugh, too, is rolling out the welcome mat for these summer tours and a chance to celebrate a cherished place that takes her back to her childhood, and has truly brought her full circle.
"Just being able to get my children involved here and seeing them grow in that same love that my parents gave me, it just means everything to me," assured Farabaugh. "It completes me and makes me realize that God put me here at this time. This is what He wants me to do. I feel very confident about that."
Editor's Note: For a tour of Saint Joseph's Mission Church at Hart's Sleeping Place and more insight from Father Jude Brady, OSB, and Marian Farabaugh, watch a special edition of Proclaim! TV on May 30 at 10:30 a.m. on WATM ABC 23.
[Photos: (Top) Interior of Saint Joseph's Mission Church; (First Inset) Curator Marian Farabaugh; (Second Inset) Exterior of Church; (Third Inset) One of the beautiful stained glass windows in the church depicting history dating back to Father Gallitzin; (Fourth Inset) The museum in the church featuring photos and other historic items; (Fifth Inset) A Marian Shrine on the grounds of Hart's Sleeping Place.]