By Andre McCarville
Director of Missions and Family Life
Most Catholics are aware of the Lenten Program known as Operation Rice Bowl. The Rice Bowl offers an easy way to take some of your unused change and donate it to a good cause. Last year in our Diocese, we raised $28,323.26! That is a beautiful testimony to the generosity of our Catholic faithful in our Diocese. But where does that money go? What is the work the money is used for? Who does it benefit?
Seventy five percent of the money raised through Operation Rice Bowl benefits Catholic Relief Services or CRS. Catholic Relief Services carries out the commitment of the Bishops of the United States to assist the poor and vulnerable overseas. It was founded in 1943 by the Catholic Bishops of the United States to serve World War II survivors in Europe. Since then, it has expanded in size to reach more than 130 million people in more than 100 countries on five continents. Its mission has been to assist impoverished and disadvantaged people overseas, working in the spirit of Catholic social teaching to promote the sacredness of human life and the dignity of the human person. CRS promotes human development by responding to major emergencies, fighting disease and poverty, and nurturing peaceful and just societies. It truly is the Gospel in action and an excellent charity to support.
But if only 75% of that money goes to CRS, where does the rest of it go? It stays here in our Diocese to help those in need. This year, three charities were chosen to receive equal shares of the 25% that remains. They were: the Dorothy Day Center in Loretto, the Fulton County Mission in McConnellsburg, and the Society of St. Vincent de Paul which has locations throughout our Diocese. Each charity received a check for $2,360,28. Below is a snapshot of the work each charity is doing in our area.
The Dorothy Day Center
The Dorothy Day Outreach Center, created in 1981, is a volunteer-based agency on the Saint Francis University campus in Loretto that strives to live out Franciscan values by following in the footsteps of its namesake, Dorothy Day. The Dorothy Day Center helps with a wide range of assistance needs. The center serves local families with support, programs, food, clothing and monetary assistance. They have a food pantry two days a week which distributes food to over 100 families. They provide financial assistance to those in crisis situations, such as getting a car fixed, purchasing a furnace, paying medical bills or having utilities turned back on. They have a Thanksgiving dinner for senior citizens in their area that feeds over 700. And at their thrift store you can purchase a bag full of clothes for $1. [Photo: Andre McCarville, Brother Gabriel Amato, TOR, Director of the Dorothy Day Center, and Mary Adams, Assistant Director of the Dorothy Day Center]
The Fulton County Mission
The Fulton County Mission was founded in 1988 to serve the needs of those in Fulton County, who are away from some of the more populated areas of our Diocese. They operate out of St. Stephen's Parish in McConnellsburg. From there they distribute free, quality clothing, and provide assistance with basic needs such as fuel, rent, utility assistance and transient aid. Additionally, they work with other organizations to help provide gasoline and meals to travelers in need, provide eyeglasses and medicine, and help fire victims with clothing and household needs. The Mission organizes a free School Supply distribution in late summer, provides a winter coat program for children and adults in the Fall/Winter season transition. It coordinates a Christmas Gift Program which has become a County-wide, ecumenical activity as well as a Diocesan "Friends of the Fulton County Catholic Mission" project.   Gifts were provided for over 600 children in 2018. The Fulton County Catholic Mission also sponsors the Gabriel Project, a program designed to prevent abortion by offering practical help to women and girls who are pregnant and need assistance and support. The Diocesan Fulton County Catholic Mission presence helps to dispel misunderstandings where Catholics have been looked upon with suspicion, supports Catholic values in secular environments and is an instrument of God's love through ministry to all in need. [Photo: Andre McCarville and Sister Martha Burbulla, CCW, Director of the Fulton County Mission]
The Society of St. Vincent de Paul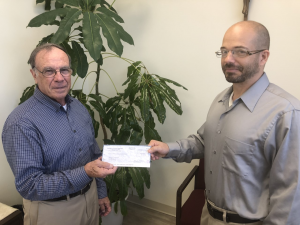 The Society of St. Vincent de Paul was founded in France in 1833 by a young college student, Frederic Ozanam, and it modeled its service to the poor after St. Vincent de Paul, a French priest who lived in France in the 17th century. The Society was reorganized in the Altoona-Johnstown Diocese in 1981. Its mission is to assist those in need with food, shelter, and financial aid as well as in-kind material goods such as clothing, furniture, household goods and other basic necessities of life. The main source of help for those in need are the Parish Conferences within the Society. Members, called Vincentians, visit those in need in their homes and provide whatever assistance is deemed possible and necessary. Its work continues today throughout the Diocese with 22 parish conferences, 8 thrift stores, 5 food pantries, 2 food distribution warehouses, a Youth Ministry program, 2 family kitchens, and a car donation program. [Photo: Sonny Consiglio, Executive Director of the Society of St. Vincent de Paul, and Andre McCarville]
The generosity of the Catholic faithful in our Diocese has made a huge impact on those in need in the past. And we have done great work with Operation Rice Bowl so far. Let's continue to remember those who are struggling to meet their needs as we head into the Advent Season. And don't forget the good work that you support in Operation Rice Bowl next Lent. Let's try to encourage others to take part so we can make an even bigger impact next year!
"Everything a baptized person does every day should be directly or indirectly related to the Corporal and Spiritual Works of Mercy." – Dorothy Day