By Tony DeGol
Proclaim!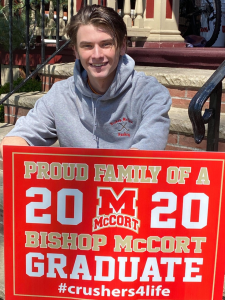 The game of hockey has taught Cole Bradley a lot.
As a star player at Bishop McCort Catholic High School, he learned the value of being part of a team and how to keep wins and losses in perspective.
Off the ice, he realizes that those same lessons apply as he and his fellow seniors accept the unfortunate hand they are being dealt.
"You do lose sometimes, and this situation has kind of felt like a loss to seniors, but life goes on," he remarked.
As a way of recognizing Bradley and his classmates, McCort administrators, teachers, and staff spent an entire day visiting seniors' neighborhoods – spanning multiple counties – with a drive-by parade.
With car horns honking and Crusher pride gushing, the gang placed yard signs in front of each student's home – some signifying extracurricular activities in which the student was engaged or honors the student received.
The visitors' enthusiastic spirit and genuine support meant the world to Bradley.
"It was so great to see those guys – they didn't have to do that," he realized. "It took a whole day for them to go out of their way. To do that shows what a family we are here."
Senior Sam Newcomer was overwhelmed.
"It shows you how much they really care about you," he added.
"It was so great," admitted senior Dani Cramer. "This time is so hard because we don't get to see each other every day like we normally do, and just seeing the faces of my teachers, and my principal, and all the staff at McCort that I'm used to seeing every day just brings my senior year back to me a little bit."
Tears filled the eyes of some students and parents as the parade arrived in their front yard, and the experience was just as powerful for those on the other side.
"For me personally, it was the best day I ever had as an educator," mentioned McCort Principal and Chief Academic Officer Tom Smith.
The parade was beyond memorable for Bradley's parents, John and Amy Bradley. Besides having a son in the McCort Class of 2020, John is a Health and Physical Education teacher at McCort and the school's hockey and baseball coach. Amy teaches Business 101 at McCort through the school's collaboration with Saint Francis University.
"I went between laughing and crying," confessed Amy. "It was the coolest thing. The kids would come out on their porch and there were so many teachers, administrators, and staff. The kids just couldn't believe it. They had huge smiles on their faces."
As a veteran educator, John had high praise for the seniors.
"The Class of 2020 may be known as the chameleon class because they were able to adapt, they were able to change," he observed.
For Cole Bradley, one big change on the horizon is a move to Lebanon Valley College, where he will study business and, yes, play hockey.
Thanks to his positive attitude and the solid foundation from his family and the McCort community, some would say he begins this next chapter of his life already a winner.
[Photos: Cole Bradley stands by the various signs placed in his front yard by the Bishop McCort Catholic High School family (top) and poses by one of them (first inset photo); McCort Principal Tom Smith — dressed in white shirt and hat — and others place signs in a yard (second inset photo.]