By Tony DeGol
Proclaim!
When Cissy Larsen started playing the pipe organ at age 10 at Saint Agnes Parish in Lock Haven, she could not reach the pedals. Thankfully, a religious sister assisted her with the task.
Now, 57 years later, she is still playing the organ and directing the choir at the Saint Ages worship site of Holy Spirit Parish. She needs no help handling the grand instrument, and she is more than ready to embrace the return to public Masses in just a few days.
Like most Catholics, the past months without public liturgies left a void in Larsen's life.
"It's been very difficult because you're not used to missing Mass," she observed. "The first couple of weeks were strange – especially Holy Week."
Larsen joked that the period from Palm Sunday through Triduum are times when parish musicians basically bring a cot to the choir loft because they spend so much time at the church.
Obviously, not this year.
"And to not receive Communion was weird," she added.
Through it all, Larsen found some unexpected blessings.
"I think I prayed more during this pandemic," she admitted.
She also watched Masses on television or on-line, and even enjoyed watching liturgies celebrated by some of her former pastors.
Larsen and other Catholics in Altoona-Johnstown are invited back to parishes when public Masses resume at most churches on the weekend of June 13-14, per the directives from Bishop Mark.
Last week, the Bishop lifted the directive that only 25 people or less can attend Mass at one time. Still, the faithful must wear masks and practice social distancing until further notice.
Each parish will provide further information to parishioners, but universal directives also include not offering the Precious Blood and refraining from hand shaking and other physical contact.
The obligation to attend Mass on Sundays and Holy Days remains waived until further notice. Individuals vulnerable to COVID-19 should consider staying home, and those who have any contagious illness – even the common cold – are asked to not come to church.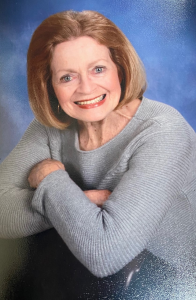 The resumption of public Masses is also a high note for Mary Lou Putek, music director and sacristan at the Immaculate Conception worship site of Holy Spirit Parish.
"We're all excited," Putek assured. "We have smiles from one side of our face to the other."
As the self-described "little caretaker" of the Immaculate Conception site, Putek is charged by the Pastor this week with roping off every other pew in preparation for public Masses – a task she is happily fulfilling.
Putek has missed attending daily Mass in the past months, but has remained connected. Thanks to her engagement at IC, she maintains a small office at the church and continues to stop by to carry out her responsibilities. While there, she spends a little quiet time in prayer.
"I was one of the lucky ones," she realized.
These weeks have been a good time to truly think about others, Putek added.
"Actually, that's what our faith calls us to do," she said.
As she looks forward to the Eucharist and rejoining her fellow parishioners in the pews, Putek calls this time an awakening.
"My Catholic faith is everything," she maintained. "Every day, I become stronger in my faith. I share it with everyone."
[Photos: (Top) Mary Lou Putek directs the choir at the Immaculate Conception worship site of Holy Spirit Parish in Lock Haven; (First Inset) Cissy Larsen and her husband, Bob; (Second Inset) Putek.]