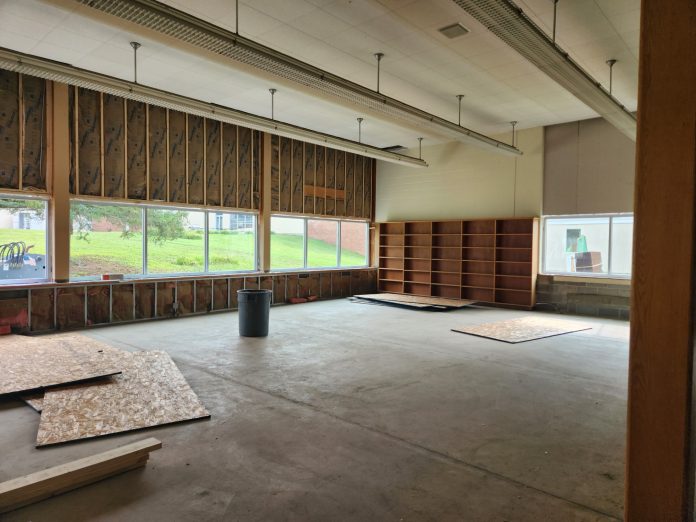 By Teresa Golden
Proclaim!
While students are on summer break enjoying time with their families and friends, many of our great Catholic schools are working around the clock to create new and exciting spaces for them to enjoy in the coming school year.
Bishop McCort Catholic High School, Bishop Carroll Catholic High School and Divine Mercy Catholic Academy are all in the process of renovating their school libraries into spaces that will allow students to learn, connect and grow in a modernized fashion. Each school has a unique plan that will cater to the needs of their student population.
Bishop McCort Catholic High School in Johnstown is updating its current library and turning it into a media center that will include a testing center, a lounge area, an auxiliary classroom and a reading area for students to receive additional assistance with their studies.
This comfortable and secluded area will allow students to focus on their schoolwork and have a multitude of tech resources at their fingertips.
Tom Smith, Principal at Bishop McCort, is full of enthusiasm about the area that will be available to students.
"Technology is the key now" commented Smith. "You don't see many books in college libraries. You see technology where kids can access everything in the world."
He also explained that a portion of the library will be titled the "DePaul Commons" after Sister DePaul, a long-time member of the Bishop McCort family and assistant in the school library who is remembered by generations of alumni. The school is honored to remember one of its beloved faculty in a project that will connect the past, present and future of learning at Bishop McCort.
Bishop Carroll Catholic High School in Ebensburg is creating a media center for students that will both update the facility and provide students with access to technology and study areas that will enhance their learning experience, integrating traditional learning styles and new technology.
Work has been underway since the final weeks of the past school year, and the faculty and staff of the school are filled with enthusiasm about the updates that are coming to the school.
Jonathan Nagy, Dean of Students at Bishop Carroll, stated, "We are excited for the renovations taking place at Bishop Carroll, transforming our 1960s library into a state-of-the-art media center. In addition, the adjoining computer lab is being upgraded to a STREAM lab. Both areas will be of great benefit to our students, as we move into a more digital and technical world. These will also become great meeting areas for classes and others. The media center will be dedicated to former French and German teacher Mrs. Ursula Pawlowski. We are grateful to Mr. Fred Goltz and others who have generously donated towards this project. Completion is scheduled by the first week of school."
Students will be able to read, write, study and connect in a space designed with their academic needs in mind that advances them into the future of Catholic education.
Divine Mercy Catholic Academy in Johnstown is working to "re-imagine" its library into a space that will encourage young students to pick up a book and foster a love of reading. Various updates to facilities will occur at the school's East and West campuses, including creating a bigger library area with new shelving, new books being added to those shelves and renovated reading areas for students to relax, read and receive assistance as they learn.
The East Campus will additionally see updates to their music room for their students to learn, enhance and enjoy musical skills. The school also provides an online library to their students so that they have access to a massive digital library at their fingertips.
Ryan Woodruff, Principal of Divine Mercy Catholic Academy, is enthusiastic about the project and its ability to introduce technology to their student population as well as a new physical library collection.
He explained that the school wants to "still have a space where students to sit down with a real book," and they are excited to provide both digital and in-person literary resources to students through this wonderful project. The school hopes to make the library a place where students want to go and in turn encourage a love of learning among their students.
[Photo: Work is happening inside the Bishop Carroll Catholic High School library this summer. The space is being converted from a traditional library to a media center.]