By Deacon Michael Russo
For Proclaim!
Saint Benedict Parish in Johnstown continues to make friends across the world. With an expanding website that continues to offer inspirational spiritual devotions and website links, Imran Mustaq, who lives in Pakistan, was able to connect with Deacon Michael Russo. Talking each day, sharing prayer, and comparing life experiences about their respective countries, Imran expressed a desire to learn more about Sacred Scripture. Deacon Michael began meeting with him online each Friday for 60-90 minutes to study the Bible.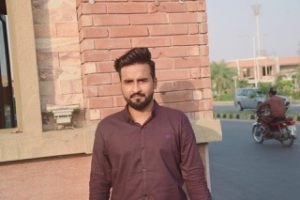 Imran shared the horror of the persecutions taking place in his country where there is a systematic plan to eradicate all Christians. Many in Imran's village have been killed to reduce the number of Christians.
According to the Open Doors World Watch List, Pakistan is ranked fifth on the list of countries where Christians are persecuted for their faith. Unfortunately, the intolerance, discrimination, and outright persecution documented by the International Criminal Court in the first six months of 2020 support this ranking of Pakistan as the worst persecutors of Christians in the world.
In March 2020, Pakistan entered a national lockdown to curb the spread of COVID-19. The lockdown dramatically affected the countries' poor and marginalized communities, including Christians. Jobs were lost, food supplies dwindled, and reports of infections and deaths escalated.
In Karachi, Christians and Hindus were refused access to food aid. In the village of the Kasur district, more than 100 Christian families were excluded from food aid distribution. Christians make up 80% to 90% of Pakistan's sanitation workforce, which includes jobs such as street sweepers and sewer workers. Despite the national lockdown, sanitation workers, were required to continue with little or no safety equipment leading to many Pakistani Christians being exposed to unsafe work environments.
Christianity is the third largest religion in Pakistan. Most Christians, Catholic and Protestant live in Punjab Province, where the vast majority is Muslim. Imran lives in Chichawatni, Punjab, Pakistan. After witnessing the persecutions and the suffering of the children and families, Imran decided to establish a school for the children to receive general knowledge and learn about God. Imran told Deacon Michael, "I just started school and Sunday school for the Christian children here in my area. I am teaching them in my home so they can receive religious education too."
To help with Imran's project, Deacon Michael has sent Bible Study aides for children ages 4 to 7 and 8 to 12. The study material includes Bible stories, crafts, and various lessons and projects that are age-specific to make the classes fun and engaging for the children. Imran added, "You can't even imagine the discrimination, hate, and persecution the Christians have faced from non-Christian teachers and students. Christians cannot continue their studies in those schools, and that is why I started a free school so the children can study and get their religious education too."
Turning to Saint Teresa of Calcutta for his inspiration, Imran told Deacon Michael:
"I started to serve the Christians as Mother Teresa started. In the beginning, she had nothing to serve the people, but she started to serve. I don't even have food and a place for them, but I started to work for the people. I don't have food for me sometimes, but I provide food, education, and shelter for them. I started school for poor students who cannot get their education, so now they can get it for free. Some of the children are orphans."
To support Imran's missionary efforts, Deacon Michael has established a general mission fund. Some of the deacons, deacon candidates, and their wives have stepped forward with monetary assistance. "Some of my Brothers and Sisters in Christ did not hesitate to offer assistance. It is wonderful to see the Diaconate reach out in such a way to bring our ministry to parts of the world suffering under oppression and being denied religious freedom. I hope that we can spread the news of this missionary work and involve more people in supporting the efforts already begun."
For more information on how you can be part of this missionary outreach, please contact Deacon Michael at (814) 288-3036 or by email at michael.russo@atlanticbb.net.