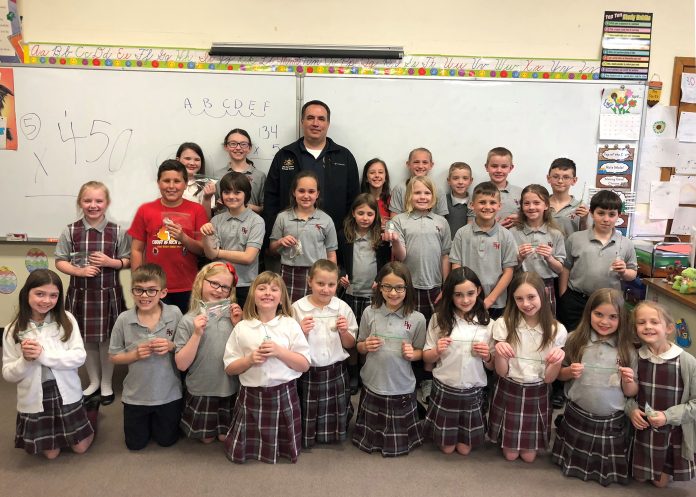 Spring has finally sprung, and here at Holy Name School, we are ready for all the special events and programs that accompany the season! This column was written by Jenna Westrick and Mahala Lieb.
An important part of spring is making sure to keep our planet clean and beautiful. On April 25, State Representative Frank Burns visited the school to talk to the third grade about Earth Day and protecting the environment. In addition to answering questions and talking about the Earth, he also gave each student a book called, "Common Trees of Pennsylvania" and a young dogwood tree to plant at home.
On May 2, Camp Cadet representatives from the Pennsylvania State Police presented the purpose of this special summer camp to the Junior High department to encourage students to apply. At the camp, students will experience an environment that teaches them about our diverse justice system, allows them to establish a positive relationship with law enforcement, and teaches them self-esteem and personal responsibility which will help prepare them for future challenges and life situations.
Our eighth grade Celebrate Diversity team will travel to the United States Holocaust Memorial Museum in Washington, D.C. on May 6, 2019. The members have already met with students from teams other area schools about people with different abilities, cultures and religions, so that they can share the need for tolerance and acceptance of others who are different than us. This trip is the culmination of their lessons.
Our final quote is from Albert Einstein: "Look deep into nature, and then you will understand everything better."
If you would like to know more about Holy Name Elementary School, visit us on our Facebook page at The Official Holy Name School.
[Photo: State Representative Frank Burns visited Holy Name School to discuss the importance of Earth Day with the Third Grade students.]