By Tony DeGol
Proclaim!
One diocesan priest and three deacons are celebrating jubilee anniversaries of ordination during this month of May.
Father Francis Balestino, a senior priest, will mark his 60th anniversary on May 28.
Born in Altoona, the son of the late Joseph and Amelia (DiMonica) Balestino, Father Balestino is a native of Sacred Heart Parish in Altoona. He is a graduate of Sacred Heart School, Altoona Catholic High School, and Saint Vincent College in Latrobe. He attended Saint Vincent Seminary and was ordained a priest at Immaculate Conception Chapel at Saint Francis University in Loretto in 1960.
Father Balestino served as pastor of Holy Family Parish Colver, Saint James and Saint Anthony Parishes in South Fork, Saint Francis Xavier Parish in Cresson, and Saint Emerich Parish in Johnstown. On July 5, 2000, he was named pastor of Immaculate Conception Parish and Saint Michael Parish in Johnstown. He was released from pastoral responsibility to Saint Michael Parish in 2003 and remained pastor of Immaculate Conception until his retirement in 2009.
Deacon Thomas Buige, Deacon Michael Condor, and Deacon Thaddeus Janisko are celebrating the 25th anniversary of ordination. They were ordained at the Cathedral of the Blessed Sacrament in Altoona on May 13, 1995.
Deacon Buige, a native of Saint Mary Parish in Nanty Glo, has been in diaconal service at Saint Mary in Nanty Glo and Saint John Gualbert Cathedral in Johnstown. He was appointed to Saint John Vianney Parish in Mundys Corner in 2010, where he continues to serve. Deacon Buige is married to the former Helen George. He is a retired teacher in the Blacklick Valley School District.
A native of Iselin, Pennsylvania, Deacon Condor served at Saint Francis Xavier Parish in Cresson and the Basilica of Saint Michael the Archangel Parish in Loretto before being appointed to diaconal service at Holy Name Parish in Ebensburg in 2015, where he continues to serve. Deacon Condor is married to the former Barbara Breisinger, and he is retired from the United States Department of Justice, Federal Bureau of Prisons.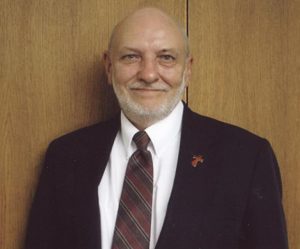 Deacon Janisko is a native of Saint Casimir Parish in Johnstown. He has been in diaconal service at Saint Elizabeth Ann Seton Parish in Windber since his ordination. Deacon Janisko is retired from General Kinetics, Inc., in Johnstown.
Editor's Note: Proclaim! recognizes diocesan clergy marking their 25th, 50th, and 60th anniversaries. Other clergy are also celebrating anniversaries marking various years of service throughout this month. Congratulations to all!