By Tony DeGol
Proclaim!
When it comes to working in perfect harmony to create beautiful music, they are definitely not your average Joes.
Father Joe Nale, Pastor of Most Holy Trinity Parish in South Fork, and parishioner Joe Rulli recently teamed up to convert the church's electric organ into a new pipe organ. They had help from a few others – including Rulli's 100 year old mother.
Joe Rulli's passion for churches and organ building began about a half century ago when he attended his cousin's wedding at Our Lady of Mount Carmel Parish in Altoona.
He remembers walking into the worship space and being in awe.
"As a nine year-old kid, I was completely engrossed by that," Rulli recalled. "So that's how I got started in all of this. It was a very beautiful experience to go into that space, and it left an indelible impression on me."
Fifty-one years later, Rulli's dream of having a pipe organ at his native parish of Most Holy Trinity became a reality.
He was a member of Saint Michael Parish in St. Michael for a while, where he built an organ for the church at little or no cost.
When Rulli returned to the South Fork parish, Father Nale jokingly asked him if he was going to build an organ for that faith community, too.
The subtle request was music to Rulli's ears, and fortunately, he already had plenty of items at his house to begin the project.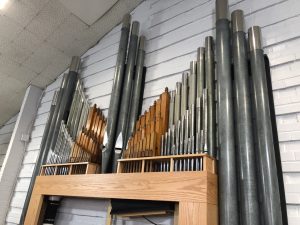 "In fact the metal pipes you see in the organ I had intended for my home, and I thought 'who needs an organ in the house?' It doesn't serve anybody," Rulli recollected. "I decided I wanted to divest myself of these things and put them some place to good use. Since I was a member here again, I thought let's do it here."
Since Rulli is a caregiver to his mother, he is unable to spend large amounts of time away from her.
"Father Nale is rather handy, and I know we have some great people here in church – great people that I've known since I was a kid – who would be willing to come here and help," Rulli said. "I said if you are willing to give me the help here, I will put it together at my place and then you guys take over from here. So it's just really an Ikea project."
When Rulli approached Father Nale about the idea last year, he explained that it would come at very little cost to the parish, and the parish council was in favor of the plan.
The timing could not have been better.
"When we were shut down for COVID, I looked at this as a COVID project," Father Nale said. "Joe had it all together at his house and took pictures and brought it all over here in three or four truckloads, and I just started putting it all together. He had a diagram attached. The pipes were all in order. It looks extremely complicated, but the way Joe had this together and his instructions made it rather simple."
A technical connection between the pipes and the electric instrument also needed to be established, and Rulli's mom, Prudence, was able to lend a little expertise in that area.
"Mom's job has traditionally been to take all the wires from the magnets and match them up one by one where they belong," Rulli explained. "Mom was a bank person. She was a bank teller, so that kind of tedious stuff was okay for her. I like the big design."
Joe Rulli is retired English and Music teacher in the Forest Hills School District who thrives on projects like this.
"It's just something I enjoy doing," he revealed. "I live and breathe it. I have all these things. I thought 'I don't want this stuff to be thrown away. I want to put it where I want to put it.' It's a labor of love. I don't care about the financial aspects of it. I don't want to sell them. I want to use them where I want to use them." 
Rulli's generous gift of time and talent means the world to the parish community.
"Oh, people love it – they absolutely love it," assured Father Nale. "Certainly that first Sunday we had this in here, people looked around and could tell there was something different. I've gotten plenty of compliments since then."
The parish plans to have a formal dedication for the new pipe organ as soon as possible. Meanwhile, Father Nale and the faith family of Most Holy Trinity are grateful for everyone's support – especially Joe Rulli and his mom, who will turn 101 in February.
Editor's Note: See more of the collaboration between Father Joe Nale and Joe and Prudence Rulli and hear the beautiful organ on Proclaim! TV on November 15 at 10:30 a.m. on WATM ABC 23.
[Photos: (Top) Left to right: Father Joe Nale, Prudence Rulli, and Joe Rulli. (Inset) The finished pipe work in the choir loft of Most Holy Trinity Parish through the team work of Joe Rulli and Father Nale.]