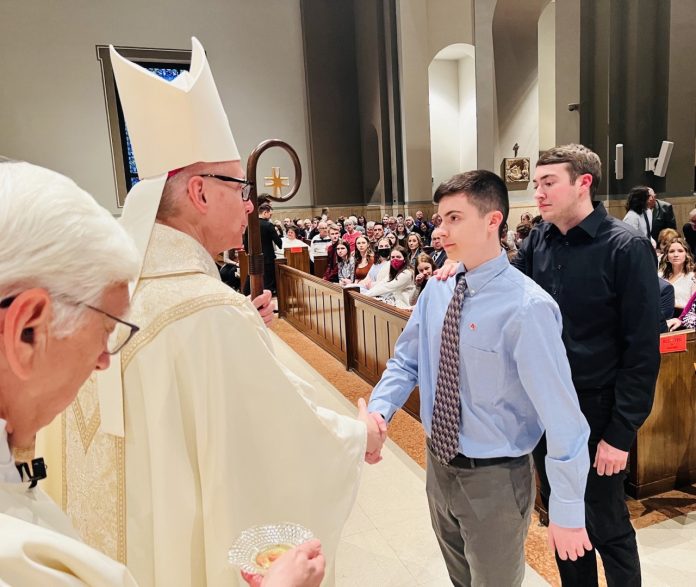 By Tony DeGol
Proclaim!
Trent Querry thinks he hit a hole in one when it comes to his Confirmation sponsor.
"He leads me in the right direction, always," explained Querry of the gentleman, who is also his golf coach. "He teaches me a good attitude, how to stay positive, how to stay close to God, and how we trust God in good times and hard times."
Off the golf course, Querry has teed up a new chapter in his faith life as a newly confirmed Catholic.
"The preparation process for me was a lot of reflection, what I can do to improve my faith, and how I can become closer to God and stay connected to the Church," added Querry, a member of Our Lady of Mount Carmel Parish in Altoona. "I think I can stay engaged in my faith by helping younger kids — like my younger family members – by teaching them what God can do in your life, because He can really impact it."
Querry is among the hundreds of teens receiving the Holy Spirit through the Sacrament of Confirmation this Easter season here in the Diocese of Altoona-Johnstown. Bishop Mark is in the process of celebrating a series of Confirmation Masses that began on April 19 and continue through May 22.
In his homily at the April 19 Mass, during which 80 students from nine Blair County parishes were confirmed, Bishop Mark spent a little time addressing the basics.
"Confirmation is the Sacrament that completes Baptism," he explained to the candidates. "In the Sacrament of Confirmation, the gift of the Holy Spirit is given in a unique way. With the reception of Confirmation, a person such as yourself will now be full-fledged, responsible members of the Church. In other words, it's time for each one of you to begin to say 'I'm going to make the decision, and I'm going to make the effort to live my life as a believer, a true follower of Jesus, and to be involved in the Church.'"
The Bishop reminded the youth that the Lord has tremendous respect for each of them, and he challenged them to share their faith with others.
"After this evening is over, I'm asking all of you young people to go out into the world and show people that you have been anointed with nothing less than the Holy Spirit," Bishop Mark urged. "Don't be afraid to give witness to the Good News of Jesus our Savior."
The Bishop's message struck a chord for Jacob Steinbugl and Nathan Forlina, members of Saint Mary (Immaculate Conception) Parish in Altoona.
"Confirmation is a way to really connect with the Church," Steinbugl commented. "We're finally becoming a part of this community that we've seen our whole lives. It's really special for us to join them now."
Added Forlina: "I want to continue going to Church every Sunday and do whatever I can for people to bring the Lord closer to them."
Editor's Note: See more Confirmation highlights on Proclaim! TV on May 1 at 10:30 a.m. on WATM ABC 23.
[Photos: (Top) Bishop Mark congratulates Nathan Forlina after the Saint Mary, Altoona, parishioner received the Holy Spirit through the Sacrament of Confirmation on April 19. (First Inset) The Bishop congratulates Sophia DelGrosso, a member of Saint Joseph Parish in Bellwood, while Sophia's sponsor, DiAmanda Murrary, looks on. (Second Inset) Bishop Mark congratulates Alexander Drumm, a member of Sacred Heart Parish in Altoona, while Alexander's sponsor, Matt Drumm, looks on.]