By Tony DeGol
Proclaim!
Hannah Grace Wirfel has some advice for her younger brother, Luke, as he prepares for his freshman year of college.
Work hard and learn, she urged, but also have fun, enjoy friendships, and make the most of the opportunity.
Her recommendations come from experience.
Hannah is entering her junior year at Saint Francis University in Loretto.
Luke will attend the University of Pittsburgh at Johnstown.
The siblings were among dozens of young people who attended Bishop Mark's annual outdoor Mass for students entering or returning to college on August 2 at the Our Lady of the Alleghenies Shrine in Loretto.
The gathering was another opportunity for the wider Church to support and encourage students embarking on a journey during which some young people struggle to stay fully engaged in their Catholic faith.
"If your friends are skipping Church to go study or hang out, it becomes more difficult to make a decision to go to Church rather than hang out with your friends," admitted Hannah. "It's the peer pressure aspect to do other things rather than spend your time praying, going to Church, or studying your faith."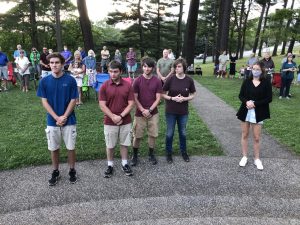 In his homily, Bishop Mark seized the opportunity to relay his familiar marching orders for college students.
Most importantly, he reminded young people they are Catholic Christians made in the image and likeness of God. He told them to take good physical care of themselves, and bluntly warned them against drinking, drugs, and sex.
The Bishop also offered other pieces of wisdom.
"No matter where you are or what you do, never give up the thirst for knowledge," he pleaded. "Never give up the expectation and the desire to have your thirst satisfied. So when you leave home for college or military or to go off to work, please don't leave your curiosity at home, and don't leave the ultimate answer to your curiosity at home. Be sure to invite Jesus to accompany you. I can tell you very plainly that Jesus loves – absolutely loves – curious people." 
A happy and fulfilling life is about more than the superficial things we often see portrayed on reality TV shows or in pop culture, Bishop Mark continued.
"In your college, military, or work experience, find a teacher, a mentor, a friend who doesn't just tell you how to solve a Math problem," he suggested. "Find someone who shows each person his or her true dignity and self-worth. Find a teacher, mentor, or friend who inspires you to bring forth your best effort. Jesus Christ is that friend, but there are others who surround you if you only look for them."
Just days away from the start of a new academic year, the Wirfels, parishioners of the Basilica of Saint Michael the Archangel, took the Bishop's message to heart.
"He inspired me to make smart decisions and continue to expand my knowledge," commented Luke, who plans to study Biology/Pre-Medicine. "I want to work hard and become a doctor like I want to be instead of just going for four years and wasting whatever degree I get."
Hannah, who is studying Physical Therapy, is looking forward to a new adventure this year – serving as a resident assistant.
She, her brother, and the other young people on hand for the Mass appreciated the special blessing offered by the Bishop and a small gift, courtesy of the Diocesan Office of Campus Ministry.
Perhaps the best present was a simple and beautiful reminder from Bishop Mark: "We want you to pursue your passion. Do it with joy, do it with integrity, and have a great time. And remember, we're praying for all of you!"
[Photos: (Top) Siblings Hannah Grace and Luke Wirfel share a moment with Bishop Mark following the annual outdoor Mass for college students in Loretto. (Inset) Some of the college-bound students in attendance gathered around the altar for a special blessing from the Bishop.]