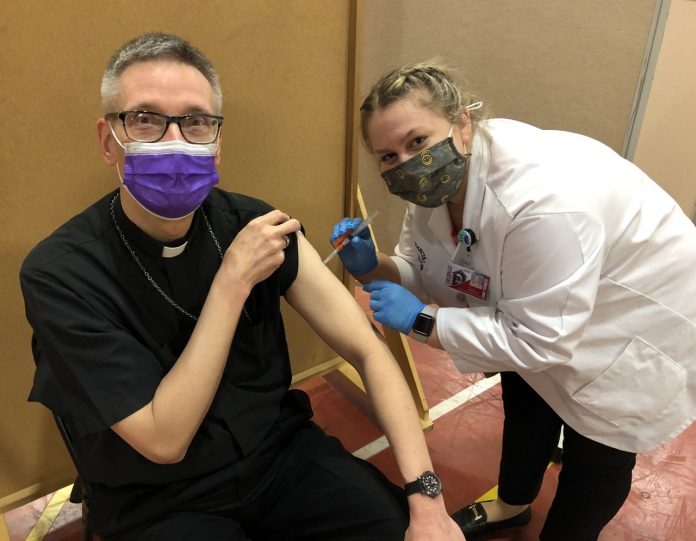 By Tony DeGol
Proclaim!
The Maurice Stokes Athletic Center at Saint Francis University is home to thrilling competition, and these days, it is also a place that could save lives.
The University has teamed up with Mainline Pharmacy to offer the COVID-19 vaccine to residents throughout the community – including Diocese of Altoona-Johnstown clergy and Catholic school educators.
Bishop Mark and some other priests received their first dose earlier this month. Clergy over age 65 and clergy who are younger, but have underlying health conditions, were given the opportunity to receive the vaccine along with others who qualify.
Jerry Moschgat of Mainline Pharmacy said in addition to the collaboration with Saint Francis, his group has started clinics at various venues.
"It has been well organized with a lot of staff and volunteers, and so far we've been able to vaccinate over 7,000 people," he stated of the combined locations.
Jay Roberts, Director of the DiSepio Institute for Rural Health and Wellness at Saint Francis calls the partnership between the university and Mainline a humanitarian effort.
"It meets the Franciscan goals," he stressed. "That's what's critical here. We want to help all those in need."
As a bonus, Physician's Assistant and Nursing students at SFU are administering the vaccine, giving them hands-on experience and the opportunity to make a real difference at a time when society is coping with the biggest health crisis in a generation.
"I think we go into nursing because we want to help people, and this is just such a fulfilling way to reach out to the community," stated SFU Nursing student Jordan Markiewicz. "It breaks my heart and makes me happy at the same time when older couples come in and tell us how thankful they are to have it. We're just so happy to be here and be able to administer it."
Added SFU Physician's Assistant student Allison Patula: "I never thought that I would be able to be a part of something this big, something this life-changing."
Students come to Saint Francis to serve people, and the opportunity they are receiving is historic, said SFU Vice President for Student Development Frank Montecalvo.
"Not only are they experiencing the academic piece in the classroom, they are applying this science, and they're doing a great job," he stated.
With so many people anxiously awaiting their opportunity for the vaccine, health officials are doing their best to help people navigate through these challenging times.
Moschgat encourages anyone interested in being vaccinated to go to the Mainline website and follow the COVID prompts.
"Then it goes into the system, and when your time comes, you'll receive a call you, and you'll be instructed to get on the site again to pick a venue and time to sign up," he added.
Saint Francis has clinics planned every Thursday and Saturday.
"The key is to sign up on Mainline Pharmacy's website," Roberts emphasized.
Right now, the university and Mainline are working with the 1A category as defined by the Department of Health to accommodate those eligible.
"Our hope is to continue this process beyond our scheduled time of two months," added Montecalvo. "The critical component is getting the supply of the vaccine. As long as we're getting the supply with our partner, Mainline Pharmacy, we can continue this service."
A service for which many people are grateful, including Bishop Mark and others in Altoona-Johnstown.
[Photo: Bishop Mark receives his first dose of the COVID-19 vaccine from Rachel Lang, a Physician's Assistant student at Saint Francis University.]