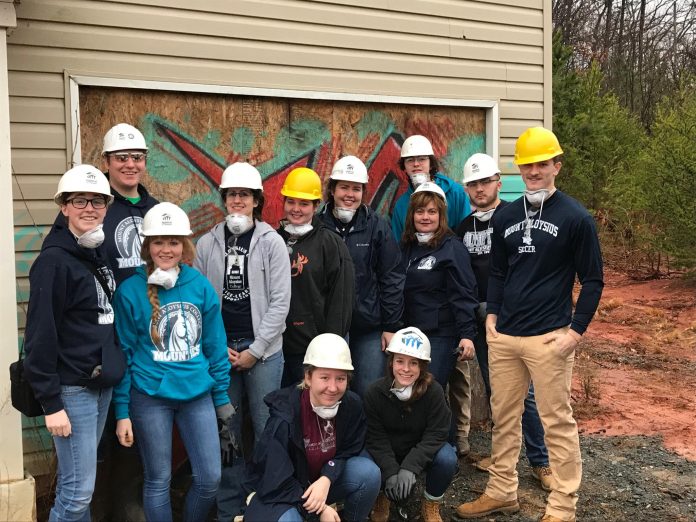 Submitted by Mount Aloysius College
Mount Aloysius College students kicked off the spring semester with a week of service in Winston-Salem, NC before classes started. Ten Mounties, accompanied by two MAC staff members, volunteered with Habitat For Humanity in the national collegiate challenge. From January 12-18, 2020, Mount Aloysius students built a Habitat Home, refurbished existing Habitat homes and did landscaping. 
In past years, Mount Aloysius students have assisted in every part of constructing a home, from the demolition of old structures to the building and painting of new houses.
Director of Mission & Ministry Brianna Baker, who led the effort, said, "These students are so dedicated to the Mercy mission of Mount Aloysius College. Not only did the group work hard to build houses, they built relationships and inner strength along the way. We are blessed to be given the opportunity to do trips like this which are so important to the development of a well-rounded student."
Habitat for Humanity is a global nonprofit organization that works toward building home and improving residences for the needy. The organization has worked in 70 countries worldwide and Mount Aloysius is excited to partner to better others.
[Photo: Mount Aloysius students pause for a photo during their service in North Carolina. Pictured are (back, L-R) Harley Nelen of Dysart, Nathan Smith of Bradford, Becca Labar of Johnstown, Director of Mission & Ministry Brianna Baker, Nicole Petonic of Summerhill, Sara Ollinger of Hollidaysburg, Director of Campus Ministry Amy Kanich, Samuel Lauer of Nanty Glo, Noah Kanich of Nanty Glo, Pete Smerecky of McKeesport, (front) Jozie Seaman of Portage, and Maggie Carrara of Freeport.]