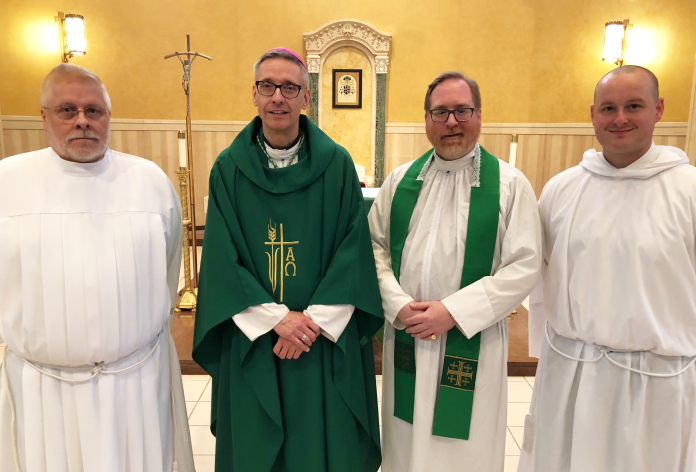 By Tony DeGol
Proclaim!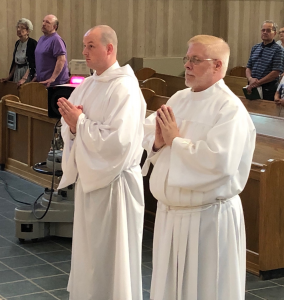 Diocesan seminarian Michael Pleva is still in the midst of his formation for the priesthood, but he has some insight that any young man should seriously ponder.
"God calls ordinary men to do extraordinary things," he reminded. "Don't be afraid, and allow God to work in your life through constant prayer and devotion to Him and His Mother, and allowing Him to lead you wherever He desires you to go."
Pleva's comments came at the conclusion of yet another milestone for him and fellow seminarian Mark Groeger.
Bishop Mark L. Bartchak admitted the two to Candidacy during a Mass on July 28 at Saint John Gualbert Cathedral in Johnstown.
Candidacy is another formal step in a seminarian's journey toward ordination as a transitional deacon and then a priest.
"It is just an amazing day for me, and so grace-filled," stated Groeger, a member of Saint Peter Parish in Somerset, after the Liturgy.
"I feel truly blessed by God to be a seminarian and study for the diocese," added Pleva, who belongs to Holy Rosary Parish in Altoona.
"The significance of today is showing that they're publicly committed to continuing their formation, to praying about and discerning what God is calling them to," explained Father Matthew Reese, Diocesan Director of Vocations. "It's not a final commitment, as ordination will be. It is just simply a temporary commitment in the sense of saying 'yes, I'm still discerning, but I am taking that discernment seriously.'"
Both Groeger and Pleva are in formation at Saint Vincent Seminary in Latrobe and will resume their studies in the fall.  
Their anticipated ordination as transitional deacons will be in the spring of 2020; their anticipated ordination to the priesthood will be in the spring of 2021.
According to Father Reese, this most recent milestone for the two seminarians might inspire other young men who are just beginning to discern a vocation to the priesthood.
"I would tell them to take a look at what these men today – Mark and Mike – have done as far as taking a step to candidacy," he said. "They've already had several years of formation and discernment. Talk to them or just try to understand that the discernment process is not an overnight commitment."
Groeger's advice to anyone contemplating a vocation is to turn to the Lord in prayer.
"Pray with an open heart and listen," he urged. "The part of prayer people forget about is the listening part. The Lord will speak to your heart in many different ways, but when we have great peace and great joy when we have those thoughts, we know those are from the Lord."
For more information about priestly vocations, contact Father Matthew Reese at vocations@dioceseaj.org or (814) 695-5579.
[Photos (from top): Seminarians Mark Groeger (left) and Michael Pleva (right) pose with Bishop Mark and Diocesan Director of Vocations Father Matthew Reese; Groeger and Pleva stand before the Bishop during their Admission to Candidacy; Pleva poses with his parents after Mass; Groeger greets the faithful after the Liturgy.]