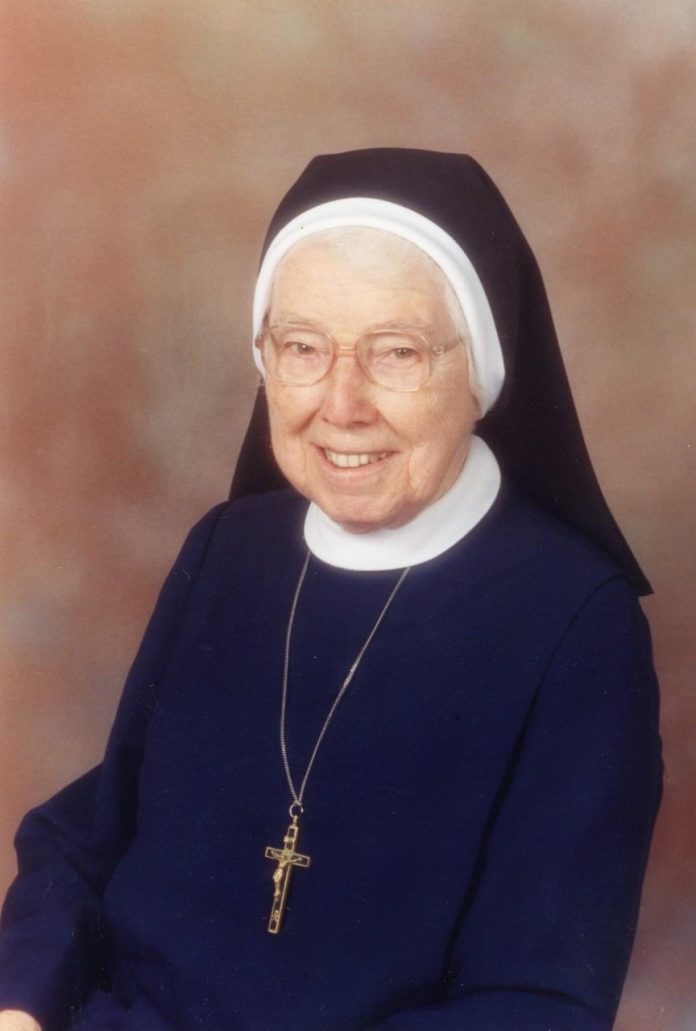 Sister M. Romaine Krug, IHM, of the Sisters, Servants of the Immaculate Heart of Mary died on Friday, November 18, 2022, at Our Lady of Peace Residence in Scranton, PA. Sister died at the age of 109 and was the oldest living member of the IHM Congregation.
She was born on Sept. 12, 1913, in Ashville, Pa., and given the name Verna Matilda. She was the daughter of the late Herman and Matilda Douglass Krug. She entered the IHM Congregation on Sept. 8, 1940, and made her temporary profession of vows on May 10, 1943, and her final profession of vows on Aug. 2, 1946. Sister Romaine received a Bachelor of Science degree in education/social science from Marywood College, and a Master of Arts degree in home economics/foods from New York University. Sister Romaine served as a teacher at St. Joseph High School in Danville, Pa., from 1943 to 1953; and as a faculty member of Marywood College in Scranton, Pa., from 1953 to 1971.
At the Marian Convent in Scranton, Pa., Sister Romaine served as dietician from 1971 to 1983, and as a member of the dietary staff from 1983 to 1988. Sister Romaine was faithfully committed for many years to work of the Diocese of Scranton Enthronement of the Sacred Heart Guild where she served as moderator from 1988 to 1992, and as administrative assistant from 1992 to 2009. From 2010 until the time of her death, Sister Romaine was a prayer minister at Our Lady of Peace Residence in Scranton.
She is preceded in death by five brothers, Herman, Leo, Robert, Douglas, and Francis; and seven sisters, Helen, Mary Bender, Marian, Jane, Dorothy Conlon, Sister M. Hermine, IHM, and Sister M. Franceline, IHM.
She is survived by a brother, Edgar of Pittsburgh, Pa.; a sister, Theresa Cole of Indiana, Pa.; nieces and nephews; grandnieces and grandnephews; great-grand nieces and great-grand nephews. She is also survived by the members of the IHM Congregation.
Interment will be at St. Catherine's Cemetery in Moscow, Pa. Because of restrictions related to the coronavirus, the funeral mass and graveside service are private.
Memorial contributions may be made to support the retired IHM Sisters c/o the IHM Sisters Retirement Fund, IHM Center, 2300 Adams Ave., Scranton, PA 18509.