By Tony DeGol
Proclaim!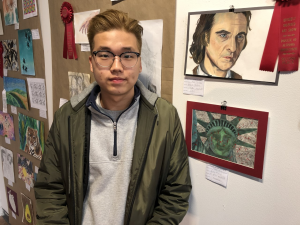 Sometimes a canvas and a paint brush can give a person a louder voice than a microphone.
Minjong Ethan Kim hopes his creations speak volumes.
"I love art because I can show my emotion to other people," revealed the Bishop McCort Catholic High School student. "I can tell my story to other people."
The senior is among the many Catholic school students from throughout Altoona-Johnstown whose work is being showcased during the second annual Divinely Inspired Art Show.
His entry, titled "Freedom," is a close-up of the Statue of Liberty splattered with drops of red paint.
It conveys that too much freedom can sometimes be detrimental, he explained.
Held at the Bottle Works in the Cambria City neighborhood of Johnstown, the event, which opened on February 14 and concludes on March 2, is surely highlighting the artistic talent of students and the importance of art as part of the Catholic school curriculum.
The show, however, is about more than just celebrating the arts, emphasized organizers.
"It is about how the creative process allows students to fix problems and be solution seekers," said Beverly Struble, Art teacher at Divine Mercy Catholic Academy in Johnstown. "It is great fun getting to know the other people in the diocese. Some camaraderie gets to be developed and we get to support each other."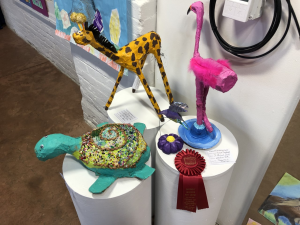 More than 440 group and individual works are featured in the exhibition from students in grades K-12.
Equally impressive is the increased community support for the show, Struble mentioned.
A ceremony was held on February 16, which recognized achievement at various grade levels.
A $500 scholarship was awarded to Uyen Nguyen, a senior at Saint Joseph's Catholic Academy in Boalsburg.
Her outstanding entry is titled "Little Boy on First Ride."
"I would like to thank the diocese for putting together such an amazing event where young artists all over the diocese, including me, are able to come together and express their creativity," Nguyen commented. "I hope that after the success the event has achieved, the Divinely Inspired Art Show will become a tradition that gives young artists the opportunity to convey themselves through art."
Editor's Note: For more sights and sounds from the Divinely Inspired Art Show, watch the March 1 edition of Proclaim! at 10:30 a.m. on WATM ABC 23.