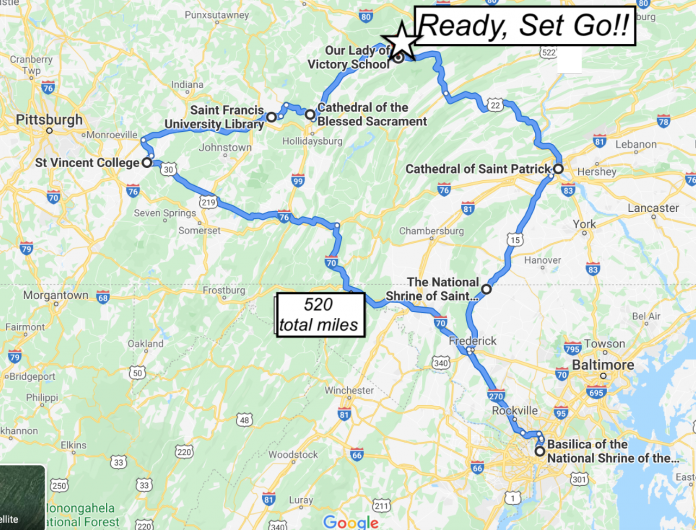 By Tony DeGol
Proclaim!
When someone tells you to take a hike, it is usually not meant as flattery.
For the Our Lady of Victory Catholic School family, however, that phrase may be the most enjoyable invitation they receive all day.
In this era of COVID-19, when almost everything is happening virtually, so too is a fun activity designed to give participants some fresh air, exercise, and enrichment – all welcome reprieves from the stress of this pandemic.
Principal Samantha Weakland came up with the idea after she and her husband were invited to participate in a virtual hike across Pennsylvania.
"One day as I was walking, I thought how this has become a blessing during mandated isolation," she reflected. "We get out every day, exercise, and have a sense of purpose. And so the idea was born to create a hike for our school." 
Weakland decided to feature Catholic sites on the hike including the Cathedral of the Blessed Sacrament in Altoona, Saint Francis University in Loretto, Saint Vincent Monastery and College in Latrobe, the National Shrine of the Immaculate Conception in Washington, D.C., the National Shrine of Saint Elizabeth Ann Seton in Emmitsburg, Maryland, and Saint Patrick Cathedral in Harrisburg.
Families will walk or hike around their neighborhood or a local park – mindful of current social distancing guidelines – and record their distance, Weakland explained. Once participants rack up enough miles to "arrive" at each of the above destinations, the school will release an engaging video featuring a representative from each site.
Father Neil Dadey, Pastor of Our Lady of Victory Parish and School, kicked off the walk this week with a special video message to the families.
"Let me tell you, I am so tired of Zooming," he said with a chuckle. "I have had it with all these meetings, and I'm sure you don't like it either – being cooped up in the house all of the time, doing things on a computer, not being able to get outside."
The virtual hike is a great solution, he offered as he launched the "walk" to the first stop: the Cathedral in Altoona.
Weakland is excited about the videos she received from each location, and she hopes the experience will be a welcome diversion for students and families at this time.
"Grab your boots and shoes made for walking, and be ready to start logging miles," she urged.