By Tony DeGol
Proclaim!
Like most widows and widowers, it is hard for Anne Zelnosky to explain her emotions over the past few months.
Richard, her husband of more than 60 years, passed in February.
"His loss has meant more than I can express in words, but the support and encouragement and spirituality that I experienced today in the company of all of the people in attendance has been very helpful to me," she said. "It makes things at least tolerable."
Zelnosky is referring to the annual day of prayer and remembrance for widows and widowers.
Every year, the Family Life Office of the Diocese of Altoona-Johnstown welcomes those mourning the passing of a spouse to a Mass and luncheon.
It is an opportunity for our Diocesan Church to reach out to those coping with the loss and assure them that they are not alone on their journey, explained Family Life Office Manager Donna Cook.
This year's gathering was held on May 8 at Immaculate Conception Parish in New Germany.
"This has been more than comforting, it has been reassuring and uplifting spiritually," confirmed Zelnosky, a member of Saint Patrick Parish in Newry.
Helen Tomassetti, a member of Saint Michael the Archangel parish in Hollidaysburg, attended for the first time, too.
Her husband, Ernest, passed in 2015.
"I hesitated coming other years, I don't know why, but I read about it in the church bulletin, and I thought this would be something super-nice to go to, and I'm so happy I'm here," she stated. "When you look around, you feel you're not the only one hurting."
Tomassetti and Zelnosky were among the 144 attendees – a record crowd, according to Cook. The event, she added, typically attracts about a hundred people.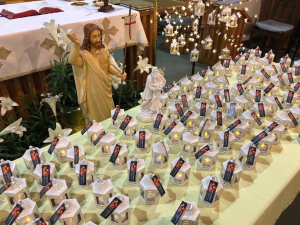 All spouses received a small lantern when they arrived and had the opportunity to place it on a table in front of the altar. Each lantern included a tag remembering their loved one.
Father Leon Hont, OSB, Pastor of Immaculate Conception Parish, highlighted that symbolism in his homily.
God has given us life, he reminded the faithful, and Jesus is the light of life, and He promised that he will never abandon us.
"So hopefully today you'll walk out of here with a lighter heart and with your lanterns reminding you that your spouse was Jesus living his promise to be the light of your life," Father Hont said, stressing that life is just a transition to another form of eternity.
"So when you look at your spouses, whose lanterns are in front of the altar, you walk away from here knowing they are not dead," he added.
During the Liturgy, Family Life Director Andre McCarville read the names of the deceased and their surviving spouses. As always, those moments evoked quiet and stillness throughout the church.
Following Mass, widows and widowers enjoyed a delicious meal, musical entertainment, and, of course, delightful conversation.
Cook received an outpouring of gratitude from those who attended.
"A woman told me that people do not ask about her deceased spouse anymore, but by attending this event, others asked about him and she recalled stories about him, and it made her realize that he was still important," Cook commented.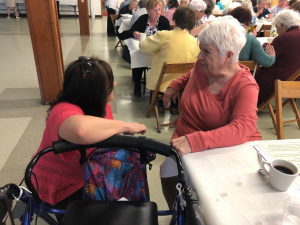 The gathering was once again a poignant time for Delores Tomaselli, a widow for 23 years.
"I came to the very first one and I've never missed any yet," noted Tomaselli, a parishioner at Holy Family in Portage. "It's a special remembrance for my husband."
Like the other widows and widowers surrounding her that day, she felt a sense of comfort.
"You have to accept life as it is and go on, and you know your loved one that you lost would want you to do this," Tomaselli remarked.
[Photos (from top): Helen Tomassetti chats with people at the luncheon following Mass; Anne Zelnosky receives Holy Communion during Mass; lanterns are placed in front of the altar to remember loved ones; Delores Tomaselli (seated) talks with a Kathleen Kruise at lunch.]