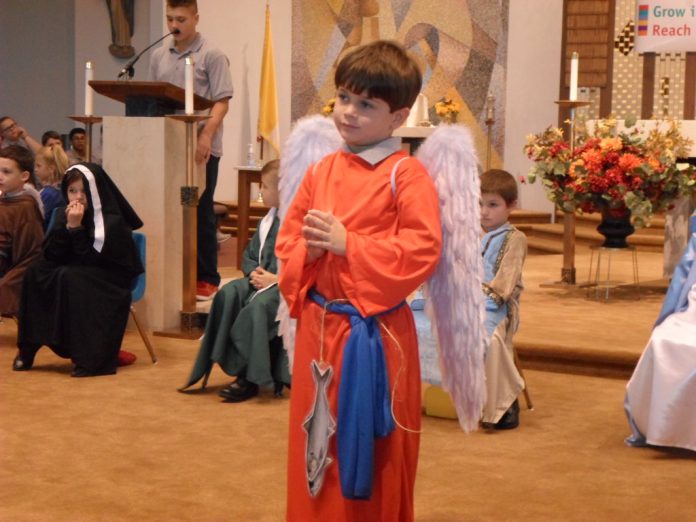 Submitted by Robin McMullen
Principal, Holy Name School
Holy Name School, established in September 1910, is a Catholic school community rooted in the traditions of our religion and broad educational opportunities. Our ultimate mission is to form students to become disciples of Jesus, so to prepare them for the challenges of living in a global society.
Holy Name School has completed reaccreditation through December 1, 2025 from the Middle States Association of Colleges and Schools Commission on Elementary and Secondary Schools for Preschool-Eighth Grade. Our current enrollment is 237 students in kindergarten through eighth grade and 70 students in preschool. Tuition Assistance is available through the Central PA Scholarship Fund and the Angel Fund for students based on family need.
We make safety and security a priority including a full-time security guard, a state-of-the-art hybrid analog and IP video security and surveillance system that employs over 100 cameras and covers over 90% of the property, secured hallways, stairwells, cafeteria, parking lots, and outdoor play areas (This system is viewable by the Ebensburg Police Department in the event of an emergency.)  The school has a magnetic-release lock system with intercom and video monitoring, which limits access to the school. With a mass-notification system for making emergency announcements to the entire school and a UL-Listed security and fire-monitoring center, a response can be coordinated to any emergency.
Our school year started with a new theme, "Christ is RICH in me." This theme focuses on the role of respect, integrity, courage and humility in becoming the people of faith that God has called us to be. To strengthen our faith community, we have also formed "Faith Families". These "Families" are comprised of one teacher and a number of students across all grade levels that will share their faith experiences, pray for each other and immerse themselves in the RICH values of our theme.  Additionally, all students participate in ARISE Together in Christ, a movement that is taking place diocesan wide, inviting everyone, young and old, to experience spiritual  renewal through faith sharing. This Faith Sharing took place during their Religion classes throughout the year, and in meetings with their Faith Families.
The Music, Band, and Choir programs at Holy Name School are quite successful. All students in preschool through eighth grade attend music class. Furthermore, there are 82 students in Choir, 70 students, Grades 4-8, in concert band, and 30 students, Grades 3-8 taking piano lessons.
This school year we added a space to study Science, Technology, Religion, Engineering, Art, and Math. This STREAM room is a dedicated area for teachers and students to work on projects for different classes. The STREAM room contains a variety of materials that allows the students to imagine, model, build, and test in activities and projects across the curriculum. Holy Name School recently received some high tech additions to their STREAM equipment.  Eight LEGO Mindstorms kits are now available for the students to apply their engineering and coding skills to solve problems and implement twenty-first century skills. The students are very excited to use the kits and to learn new applications of technology.
Also new this year, our math department initiated a program entitled Get More Math. This program uses a combination of whole group instruction and individualized practice on computers and tablets. Students meet individually with the teacher, receive extra-targeted practice to help master new concepts and complete spiral reviews to reinforce their understanding of previously introduced concepts.
Eighth grade students applied their understanding of cell reproduction by designing a cancer-fighting drug, an online lesson offered by the University of California Berkeley in the Web-based Inquiry Science Environment. They began by studying mitosis in cells. Next, they learned what cancer does to the body and how medicines can be used to treat it. Finally, they examined the properties of three plants to determine which would make a good cancer medicine.
Our eighth and seventh grade classes have learned to plan and prepare for their futures by participating in Junior Achievement Programs.  Mrs. Angela Balog from Saint Francis University volunteered to work with the eighth grade class in exploring "It's My Future". The program is designed to help students develop the personal-branding and job-hunting skills needed to earn a job, research potential careers, create a basic resume, recognize appropriate behavior for an interview, and differentiate between soft and technical skills. The seventh grade completed "Economics for the Future" under the guidance of Mr. Ron Rhoades of Pennsylvania Highlands Community College.  The students explored their skills, interests, and values; learned to make informed education, career, and life decisions; gained an understanding of personal finance and wise credit use; and learned to apply strong financial management skills regardless of their income.
Each year, the Holy Name School Community chooses a Lenten theme to focus our thoughts and prayers. This year the theme was "I can do all things through Christ who strengthens me…following in Jesus's footsteps this Lent".  Each day we prayerfully reflected on our Lenten journey and we attended Stations of the Cross and Liturgy frequently. To support almsgiving, the Student Council sponsored their annual Penny Challenge, with funds totaling $2,066.60 to support the needs of our twin parish in Haiti.
The preschool offers programs for three and four-year olds. There are two certified teachers and two classroom aides. Social interaction is the focus of the three-year-old preschool program.  Through this social interaction, the children develop an awareness and respect for one another's thoughts and feelings, and are provided positive and developmentally appropriate experiences that nurture and enrich the children's self-esteem. The children are also gradually introduced to the various domains of learning. At the center of all these experiences is each child's opportunity to discover God's love and to learn about the life of Jesus. The four-year-old preschool program is a blend of socialization and academics. The Extended Day Preschool curriculum provides a strong foundation and aids in the preparation for Kindergarten.
Centered in Jesus Christ, the entire Holy Name School community is committed to educating the total child and passing on the Catholic faith through the classroom and daily activities. The school strives to incorporate mind, body, and spirit into all aspects of the children's development. Our school curriculum includes Religion, Math, Algebra, Language Arts, Social Studies, Science, Spanish, Technology, Music, Physical Education, and Art. We offer several student activities including Drama, Diversity Program, Contests, Student Council, Forensics, Multimedia, IU8 Reading Competition, Sports, Diocesan Spelling Bee, Poetry Slam, Too Good for Drugs, and Life Skills. Some of our Special Events include Family Literacy Night, Family Science Night, Christmas Night of Babysitting, Peace Keeper Program, Living Rosary, All Saints Day Prayer Service, and the Living Stations of the Cross.
Belief Statements
We believe that effective education develops life-long learners who desire to grow spiritually, intellectually, emotionally, socially, and physically. We believe that reverence, respect and responsibility are integral values in the growth and success of every individual, both within the school and within the community. We believe, as a faith based community with immersive faith experiences, that our students will develop a passion for service and exhibit virtuous citizenship and a respect for diversity.
We believe that our progressive academic curriculum prepares students to be leaders in a digital global society and inspires them to strive for personal excellence.
We believe as disciples of Jesus that we empathize with others and strive to meet their needs in a life of service.
[Photos (from top): Holy Name School All Saints prayer service: Griffin Kanuch center; Christ is RICH in Me Faith Family: Ian Lowmaster, Allison Hall, Mrs. Lykens, Jack Washko, Brady George; Too Good For Drugs: Madison Janosik, Dakota Link, Madison Delauter and Anna Knobloch Elementary Interscholastic Reading Competition: First Row: Mrs. Link, Isabella Duman, Anna Knobloch, Samantha Buynack, Addison Misner; Second Row: Mrs. Kirsch, Katarina Galli, Sophie Becquet, Olivia Link, Madelyn Kilraine; Third Row: Miss Chalich, Ella Lytle, Emma Nyland, Kateri McCool, Karli Schoop; Celebrate Diversity: Jenna Westrick, Courtney Kilraine, Olivia Burk, Daniel Yunetz, Gavin McConnell, Cami Myers, Mahala Lieb, Ava Lonesky, Lauren Long, Alessandra Menie.]