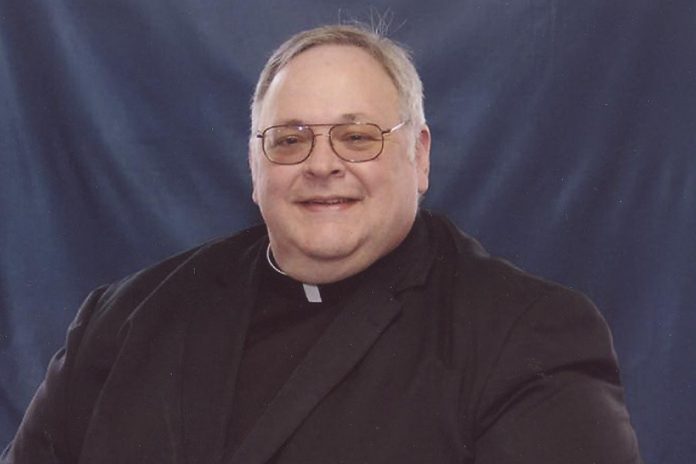 By Tony DeGol
Proclaim!
Dottie Bacher was hardly surprised when her brother, Tony, became a priest.
From the time he was little, he talked about it all the time and even celebrated pretend liturgies, she recalled.
"He used to have an altar in the room, and my mother made pillows for around it," Bacher added.
He ultimately realized his dream, and little Tony became Father Anthony J. Legarski, a beloved priest of the Diocese of Altoona-Johnstown.
Father Legarski passed unexpectedly on November 5 following a brief illness, saddening his parish family of Saint Mary in Hollidaysburg where he had served as pastor for the past 14 years.
He was 61 years old.
"He was just a great person and a great brother," Bacher said. "No matter what you needed – day or night – he always came."
Being a priest was everything to him, she added.
"He never complained about anything – he just loved his job," she insisted.
Born in Somerset, the son of John and Yolanda (Lapina) Legarski, Father attended Somerset Area High School, Saint Francis University, and Mount Saint Mary's Seminary in Emmitsburg, Maryland.
He was ordained a priest in 1983 at the Cathedral of the Blessed Sacrament in Altoona. He served as Parochial Vicar at Our Lady of Lourdes Parish in Altoona, Saint Mary Parish in Hollidaysburg, and Saint Mary Parish in Altoona.
He was appointed Pastor of Holy Spirit Parish in Beaverdale in 1999, an assignment he held until his appointment as Pastor of Saint Mary Parish in Hollidaysburg in 2005.
Word of his passing was crushing for long-time Saint Mary secretary Ethel Cunningham. She described Father Legarski as an employer, a priest, and a friend.
"It hurts," she admitted. "He was all heart. We loved him, and we'll miss him dearly."
That sentiment was echoed by one of his closest friends, the Very Reverend Angelo Patti, VF, Pastor of Saint Peter Parish in Somerset and Dean of the Southern Deanery.
Father Legarski and Father Patti both attended Saint Mary's Seminary together, and the two remained close over the years.
Father Patti fondly recalled Father Legarski's remarkable sense of humor. 
"He had that ability to make everyone laugh, Father Patti said. "He was a great imitator. He could imitate everybody, and he did it well. It was always in fun. It was never mean-spirited or hurtful. It was always to make people laugh."
Father Patti also pointed out Father Legarski's great preaching ability, organization, attention to detail, and ability to thoughtfully solve problems.
In addition to serving the Church, Father Legarski also served his country through the Naval Reserves.
In 1990, he attended the United States Naval Chaplain School in Newport, Rhode Island, and was commissioned a Lieutenant Junior Grade. From late 1991 to early 1999, Father Legarski served on active duty in the United States Navy Chaplain Corps. He was honorably discharged from active duty with the rank of Lieutenant Commander.
A viewing for Father Legarski will be held on November 13 and 14 at Saint Mary Parish in Hollidaysburg. A funeral Mass will be celebrated on November 15 at the Cathedral of the Blessed Sacrament in Altoona. Bishop Mark will be the celebrant, and Father Patti will be the homilist.
In addition to Bacher, Father Legarski is also survived by a brother, John.