The Basilica of Saint Michael the Archangel in Loretto will hold its annual Lenten Mission in Honor of Our Lady of Loretto March 19-23, 2023.
Reverend Father Michael A. Caridi, STL, Saint Paul of the Cross Parish, Diocese of Pittsburgh, is the Mission Director.
The Mission opens Sunday, March 19 at 7:00 p.m. with prayers, a homily, and Benediction of the Blessed Sacrament, with Bishop Mark Bartchak presiding and 10 priests offering Reconciliation/Confessions.                                
Mass with mission prayers and homily will be offered at 7:00 p.m. Monday through Thursday. Confessions are offered at 6:00 p.m. Monday through Thursday. Eucharistic Adoration offered at 5:30 p.m. Monday-Thursday.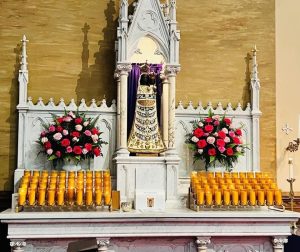 Prayer intentions may be sent to:
Father John D. Byrnes, Rector
PO Box 10,
Loretto, PA 15940