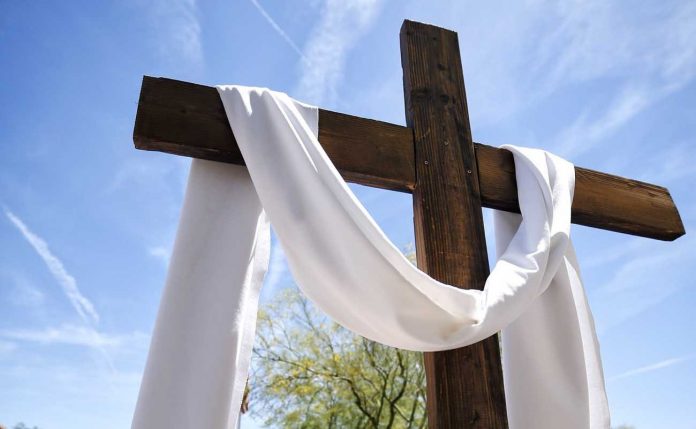 By Tony DeGol
Proclaim!
Church pews are empty, but the glory of Easter still fills our lives.
Pastors throughout the Diocese of Altoona-Johnstown echoed that message this Easter Sunday, amid the heartbreaking impact of the coronavirus pandemic.
Despite social distancing and the void of not being able to physically attend Mass, it is essential to still celebrate Jesus' resurrection and the reality that nothing can overpower God's love, reminded Father Jozef Kovacik. 
"We shouldn't be sad about it because Christ lives among us and in us wherever we happen to be – at home, at work, Christ can be there," noted Father Kovacik, Pastor of Saint Matthew Parish in Tyrone and Administrator of Saint Joseph Parish in Bellwood. "He's present in us everywhere if we allow Him." 
As we remain sheltered, we can transform our homes into places where God is present and replace arrogance and greed with compassion and forgiveness.
"That's the challenge that Easter gives us," Father Kovacik continued. "The resurrection should not be just an event that happened two thousand years ago. The resurrection is something that can be happening every day in our lives."
Father Kovacik was among several pastors in the diocese who took advantage of technology to broadcast Triduum and Easter Masses through social media. Bishop Mark's celebration of Holy Thursday, Good Friday, and the Easter Vigil were livestreamed from the Cathedral of the Blessed Sacrament Crypt Chapel, and his Easter Sunday Mass was broadcast as usual on WATM ABC 23.
With white lilies and purple hydrangeas adorning his makeshift chapel, the Very Reverend Leonard Voytek, VF, offered an uplifting Easter message to his flock watching on Facebook.
"Jesus wants us to share our faith, He wants us to boldly proclaim that He is alive," stressed Father Voytek, Pastor of Saint Mary Parish in Nanty Glo and Dean of the Prince Gallitzin Deanery. "Easter is truly a season of joy and new life – a season of peace. Easter is ultimately a time of faith when we proclaim our faith in the Lord, that He truly is alive in our midst, and that we are not afraid."
In his Easter Sunday liturgy, Father Matthew Baum also reminded that if we are following the risen Lord, we have nothing to fear.
"Today we celebrate that even in the midst of a pandemic, no matter what else may come, no matter what struggle or anxiety we may face, it is nothing compared to the power and grace of Jesus Christ – the one morning star who never sets; who, coming back from death's domain, has shed His peaceful light on humanity," assured Father Baum, Administrator of Prince of Peace Parish in Northern Cambria.
The Very Reverend John Byrnes, JCL, JV, Rector of the Basilica of Saint Michael the Archangel in Loretto, celebrated Easter Mass from the historic Prince Gallitzin Chapel House, which was broadcast on social media.
In his homily, he reminded that the first Easter was not in a crowded church. Rather, the disciples, living in fear and despair, were locked in place.
It is hard to not see the similarity in our world today, yet hope remains.
"So on this Easter Sunday, we rejoice because Jesus is truly risen," said Father Byrnes, who is also the Judicial Vicar of the Diocese of Altoona-Johnstown. "His power and His love and His sacraments are all being celebrated this Easter, although in a bit of a different way. We do rejoice this day that Jesus is risen, and we give thanks to God for that truth, and we look forward to expressing it more fully in the Easter days ahead."