By Tony DeGol
Proclaim!
Kailyn Bailey's time at Camp Zacchaeus included learning how to canoe.
More importantly than any adventure on the water, however, this seventh grader paddled her way to a deeper relationship with Christ.
"Camp Z is really, really fun," stressed Bailey, a member of Saint Mary Parish in Altoona.  "I got to learn about my faith. It really helps me to bring out myself."
Such is the typical experience at Camp Z – the week-long diocesan summer camp that offers a healthy mix of spirituality and recreation.
Open to all youngsters entering grades four through nine, it was held the week of July 17 at Camp Sequanota in Jennerstown, Somerset County.
This year's camp marked the first in-person camp since 2019, due to the pandemic.
"I've never been this far away from home without my parents or anyone else for a week," pointed out Logan Klatt, a sixth grader at Saint Michael School in Loretto and parishioner of the Basilica of Saint Michael the Archangel.
"I love how we have daily Mass, and the campfires are always fun," Klatt added. "I love being here. We did a guided meditation, which reminded me of when Jesus ascended into Heaven. It was cool. During Eucharistic Adoration, we had a lot of silence and time to pray. I liked that. Every morning, we head out by the cross, and we sing a song."
As thorough as Klatt was in recounting the many opportunities of the week, he only scratched the surface of the spiritual enrichment each camper experiences.
The theme for Camp Z 2022 was Strong in Faith.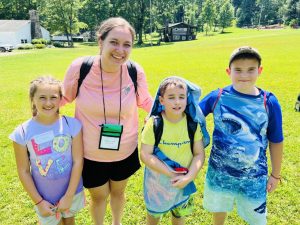 "We want our kids to understand that faith was given to them in Baptism, and it is their duty to build that faith strong, because that's what's going to carry them to the end of their life," explained Francine Swope, coordinator of Youth Ministry for the Diocese of Altoona-Johnstown. Swope directs Camp Z with the support of camp chaplain Father Brian Saylor and a team of counselors and adult staff.
To support the theme, every camper received a tool box that they were allowed to decorate. At each day's large group evangelization, the kids picked up a "tool" to help them build their faith and add to their tool box.
Among the highlights of the week was a visit by Bishop Mark, who celebrated Mass for the gang.
"Jesus wants all of us here to learn how to be a good shepherd for each other," the Bishop mentioned in his homily. "When you come to camp, you don't just come for yourself. I know all of you come here to meet new friends and meet up with friends you've known for a while. By taking care of each other at camp, at home, at school, or anywhere you go in your life, you can be a good shepherd. Jesus will help us because Jesus loves every single one of us. Each one of us will be more and more like Jesus because of that love and that friendship that we share with him."
Another memorable moment of Camp Z was a panel of individuals who spoke about answering the Lord's call in their life.
Newly ordained diocesan priest Father Brian Norris joined Father Saylor in discussing the path to their vocation, along with diocesan seminarian Jacob Gindhart. Two individuals discerning religious life were also on the panel, along with individuals representing single and married life.
After listening to each individual's vocation story, the campers had a chance to ask questions.
Camp Z concluded with a dance party and a closing Mass.