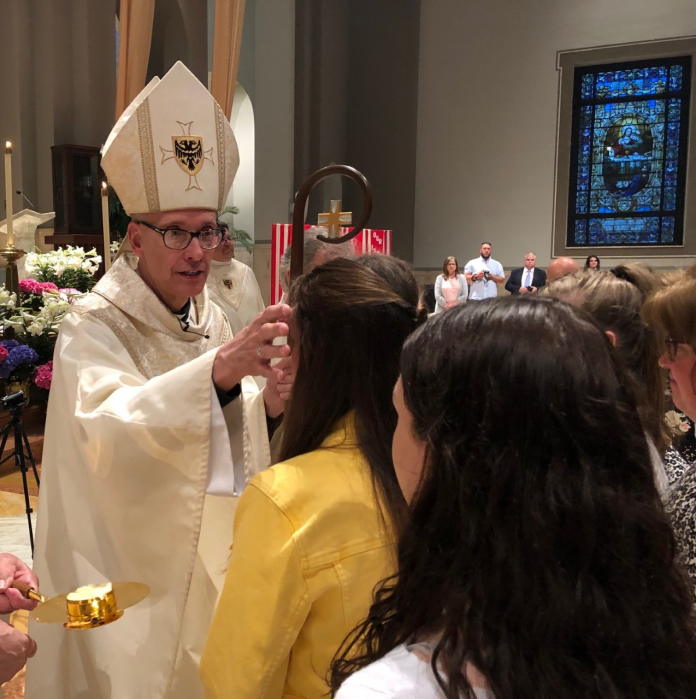 Congratulations to young people throughout the Diocese of Altoona-Johnstown receiving the Holy Spirit through the Sacrament of Confirmation. Parishes are invited to e-mail photos to Tony DeGol at tdegol@dioceseaj.org.
Saint Nicholas Parish, Nicktown
Back Row: Karlie Kirsch, Maggie Kwisnek, Brooke Lieb, Hunter Dumm, Max Kline, Alex Lanzendorfer, Sarah Krug. Front Row: Lauren Taylor, Valarie Nealen, Autumn Donatelli, Karly Maslonik, Megan Dumm, Abigail Montanaro, Briana Smith. Absent: Joseph Bernard, Karl Cidor, Aaron Krug, Danny Nealen, Taylor Sicko, Mara Yahner.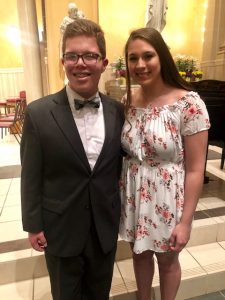 Saint Clare of Assisi Parish, Johnstown
Samuel L. Paratore and Nicole J. Altschuh.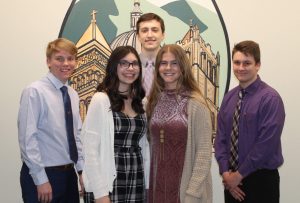 Our Lady of Lourdes Parish, Altoona
Back Row: Connor Ebersole. Front Row from Left to Right: Corbin Nale, Abigail Krupa, Jessica Worley, Evan Garlick. Not Shown: Father James Dugan – Pastor, Allison Worley – DRE, Rita Luciano – DRE.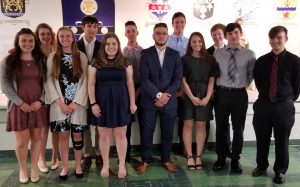 Most Holy Trinity Parish, Huntingdon
Front  Row: Sophia Dinardi, Kathryn Hopsicker, Caroline Sliver, Giovan Scaccia, Avalon Ritchey, Johua Heffner, Brady Hawkins. Back Row: Cecelia Kenawell, Daniel Bukowski, Alexander Stratton, Andrew Miller, Andrew Buonaccorsi.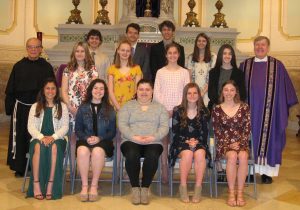 Our Lady of Mount Carmel Parish, Altoona
Saint Michael the Archangel, Hollidaysburg
Front Row: Abram Mellott, Joshua Morina, Cameron Burger, Brooke Williams, Sarah Manna, Samantha Betar. Middle Row: Adam Zimmerman, Jake Irwin, Adam Elder, Zachary Dodson, Dylan Treese, Justin Singer, James Roberts. Back Row: Kyle Ruggery, Ben Dombrosky, Ryan Negola, Michael Montecalvo, Samuel Barber, Nathan Bettwy, Quinn Garrity. Shane Gildea.  
Queen of Archangels Parish, Clarence
Drew Koleno, Paige Murgas, Grace Hugar, Danae Welker, Matthew Reese, and Father Michael Wolfe.
Saint John the Evangelist Parish, Bellefonte
1st row: Jillian McKee, Sydney Johnson, Maya Fulton. 2nd row: Samantha Arens-Ennis, Sarah Tobin, Maya O'Shea, Mackenzie Ebeling, Anna Klena, Kalista Darney, Dylan Stock. 3rd row:  Julia Nagel, Noah Ladlee, John Nastase, Vincent Lawrence, Shaun Carey, Carter Funk, Nicholas Catalano, Shane Cronin, Alina Watson. 4th Row: Deacon Tom Boldin, Father George Jakopac.
Sacred Heart Parish, Altoona
1st Row: Kelly Campbell, Alyssa Yahner, Bradyn Yahner, Abigail Whitfield, Makenna Whitfield, Anna Knott, Rachel Hord. 2nd Row: Amelia Gority, Eve Ergler, Margaret Fox, Anna Rupp. 3rd Row: Luke Adams, Isaiah Freet, Zachary Kowalski, Liam DeAngelis, Noah Drumm and Grant Corso.
Saint Mary Parish, Altoona
Front row: Stevie Webber, Amelia Morning, Abigail Anderson, Sarah McCullough.  Back row: Joseph Saylor, Kevin Bartley, Nathaniel Nardelli.
Saint Kateri Tekakwitha, Spring Mills
(Left to right): Deacon Thomas Boldin, Abigail Gerhart, Ruthanna McMurtrie, Erin Niewinski, Adrian Gover, Amber Shirey, Hannah Montminy, Sophia Gerhart, Father George Jakopac, Pastor.
Saint Mary Parish, Hollidaysburg
1st row: Rachel Westly, Erin Norris, Taylor Hileman, Allison Hileman, Emily Murgas, Catherine Anderson, Anastasia Slobodnik. 2nd row: Terry Curfman (teacher), Meghan Snyder, Natalie Nagle, Alyssa Prendergast, Rachel Sleeth, and Connie Curfman (DRE). 3rd row: Allan Duman (Acolyte), Luke Yeager, David Heim, Father Anthony Legarski (Pastor), Ian Smilnak, and Sharon King (teacher).
Saint Augustine Parish, Dysart
(Left to right):Christy James (Catechist), Madolyn George, Jane Stoltz (DRE), Paige McMullen, Carolyn McMullen, Ethan Lieb, Devon Storm, Roy Holtz (Catechist), Father David Rizzo (Administrator).
Saint Monica Parish, Chest Springs
(Left to right): Sarah McElheny, Jessica Henry, Christopher Flis, Nikki McCombie, Christie James (Catechist), Olivia Hite, Roy Holtz (Catechist), Melisa Koegler, Father David Rizzo, JCL (Administrator), Abbey Kinney.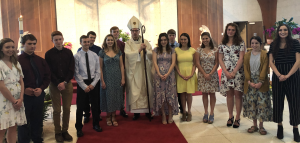 Holy Spirit Parish, Lock Haven
Lydia Wockenfuss, Roland Dornisch, Frederick Hoy III, Alec Leuthold, Brennan Noll, Avery Lindsey, Joseph Wilcox, Bishop Bartchak, Mandy Remick, Douglas Coakley, Jr., Avery Heverly, Jessica Piergallini, Kendall McCluskey, Claudia Gundy, and Katherine Spedding.
Resurrection
Parish, Johnstown
Brady Veney, Tanner Kobal , Ronny Vena , Jacob Allen and Stefen Dean.
Our Lady of Victory Parish, State College
Vivian Bottiger, Caitlyn Brannon, Natellia Carrasco-Munoz, Aidan Cross,Siena DeTuerk, Grace Dible, Tyler Emigh, Allen Farabaugh, Matt Fiochetta, Nicole Flis, Libby Fortin, Katia Fuller, Elizabeth Gilpatrick, Dylan Henderson, Brynn Hershbine, Sierra  Hockenbury, Saoirse Hopp, Madeline Hulburt, Isaac Hyman, Alex Kelly, Kate Leous, Mary Leskowicz, Sarah Lombardi, Nathan Lusk, James Manyak, Morgan Marshall, Gwenyth Michaels, Fiona Mulley, Meghan Mullin, Olivia Noel, Elisa Ohlson, Kati Panetta, Elizabeth Peters, Teghan Prospero, Zane Saylor, McKenzie Shannon, Alyssa Sharrar, Ava Starks, Catalina Thornburg, Austin J. Williams, Audrey Wolf, Lydia Wolf, Ben  Yetsko, Aubrey Zuech.
Saint Thomas More Parish, Roaring Spring
(Left to right): Annie Kitt, Abbie Kitt, Laurie Staub (Confirmation Coordinator), Braden Kitt, Father Leo Lynch (Pastor), Ethan Potter, William Kirsch (Instructor).
Saint Demetrius Parish, Gallitzin
1st row: Alayna Gil, Lauren Funari, Makenzie Shuagis, Katrina Zerbee. 2nd row: Gabriel Hutsky, Jon Rodriguez, Devon Conway, Martin Sekerak, John Kochara. 3rd row: Father Albert Ledoux (Pastor), Mary Colangelo (Teacher).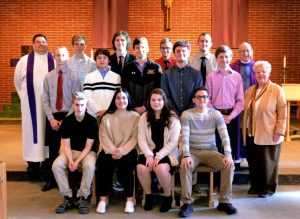 Saint Rose of Lima Parish, Altoona
Seated: Talon McKendree, Mary Gunnett, Sydney McGinnis, Dylan Little
2nd row: Christopher Fink, Michael McCall, Hayden Fox, Gaige Reighard, Anthony Pater, Bernice Shoenfelt (DRE). 3rd row: Father Brian Saylor (Pastor), Jordan Wolfe, Korey Mirenda, Daniel Ardrey, Matthew Lenz, Father Carl Spishak (Senior Priest). Absent from photo: Caroline Danison, Aaron Eiman, Sean Larson.
Holy Family Parish, Portage
Father Thomas Stabile, TOR, Pastor
Holy Rosary/Saint Mark Parishes, Altoona
1st row: Nicholas Dickson, Lillian Miller, Mark Stewart, Rachel Palmerine, Paige Glasgow, Kayli Barefoot, Jared Markel, Liam Clyma, Maggie Erickson, Reverend Ronald V. Osinski, Pastor. 2nd row: Steven Ellis, Joseph DeRubeis, Cody Harpster, Travis Luensmann, Andrew Eisel, Samuel Homan.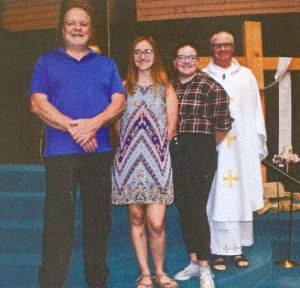 Saints Peter and Paul Parish, Philipsburg
(Left to right): Jerry Craven (DRE), Madeline Sparks, Anastasia Tocimak, Father John Gibbons (Administrator).