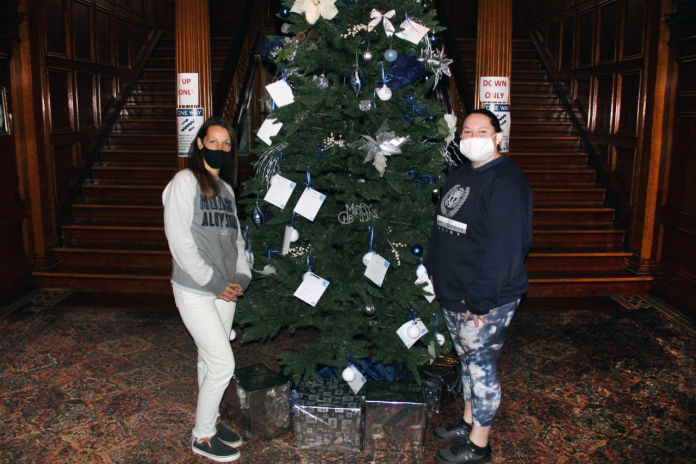 Submitted by Mount Aloysius College
For more than 20 years, Mount Aloysius College has provided Christmas cheer to families in need through their Angel Tree project. This year, the College continues that tradition, despite the coronavirus pandemic. The Angel Tree aims to assist local families who may not be able to afford Christmas presents for their children. These families are selected by guidance counselors in local schools.
This year, instead of asking for donations of toys, clothes, and other presents, the Mission & Ministry team will collect monetary donations and shop for the presents themselves, allowing the selected parents to then participate in the Saint Nicholas Market to choose gifts.
"We blended the Angel Tree with the Market this year to give families a dignified, no-cost shopping experience where they get to pick out items their children would love," said Amy Kanich, Director of Campus Ministry at Mount Aloysius. "It's an expression of our Catholic faith, and our four core values."
Brianna Baker, Director of Mission & Ministry at the College, says that the number of families the Angel Tree benefits this year will depend on how much money is raised.
"This year more than ever, families are in need of help to give their children a Christmas," Baker said. "This is a difficult time for everyone, and we need to come together and share love with one another."
If you would like to donate to the Mount Aloysius College Angel Tree project, visit mtaloy.edu/nicholas. Donations are due by December 8.
[Photo: Lisa Fellabaum from Altoona (left) and Korrin Fisher of Lebanon, PA (right) hang ornaments on the Angel Tree in the Main building on the Mount Aloysius College campus. The tree is filled with ornaments with instructions on how to donate money to purchase gifts for families in the area who may not be able to afford Christmas presents for their children.]