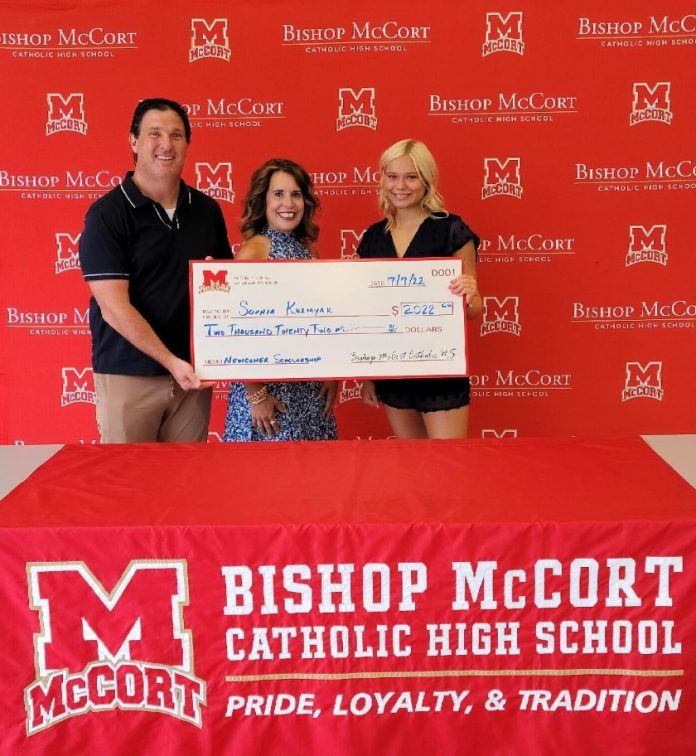 From Bishop McCort Catholic High School
The Newcomer Family Class of 2022 "Spirit of McCort" Scholarship was recently
awarded to Bishop McCort Catholic High School 2022, graduate Sophia Kuzmyak. Ms.
Kuzmyak will be attending the University of Delaware this fall, majoring in sports
management. The $2,022 scholarship was donated by Thomas Newcomer, a 1993
graduate of Bishop McCort, and his wife, Heather.
According to Mr. Newcomer, "My time as a student at Bishop McCort provided me with experiences that enabled me to grow in the Catholic faith which includes service to others. This scholarship is a way to serve Bishop McCort and honor the experiences of a graduating senior. In addition, it also helps those students who applied realize just how fortunate they are to be a Bishop McCort Crusher."
Applicants from the Class of 2022 were asked to submit an essay using the theme "What Bishop McCort has Meant to Me." The essays were evaluated by a panel of Bishop McCort faculty, administrators and alumni through a blinded entry process. Ms. Kuzmyak shared that being a Bishop McCort Crusher meant that she will always have the full support of her classmates, teachers, and administration no matter where she goes in life.