Barnabas (Michael) O'Reilly, OSB, of Johnstown, a monk of Saint Vincent Archabbey, was ordained to the priesthood on May 14, 2022, by the Most Reverend Larry Kulick, Bishop of the Diocese of Greensburg.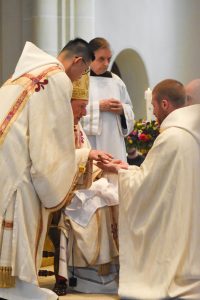 Father O'Reilly is the son of Lawrence and Eileen O'Reilly, members of Saint Andrew Parish in Johnstown. He is a 2008 graduate of Bishop McCort High School. He earned a bachelor of arts degree in biology in 2012 from Saint Vincent College. He began studies at Saint Vincent Seminary in 2016. In 2018, he received the master of arts degree in Catholic philosophical studies, cum laude. He earned the master of divinity degree from the Seminary in 2022.
He entered the novitiate at Saint Vincent Archabbey on July 1, 2015, and made simple profession of monastic vows on July 10, 2016. He made solemn profession of vows on July 11, 2019. He was ordained to the diaconate in the Archabbey Basilica on May 22, 2021 by Bishop Kulick.
Prior to entering the monastery, he was employed as a laboratory technician at the University of Pittsburgh and then worked for two years with a Catholic Missionary group known as "Saint Paul's Outreach" (SPO) at West Virginia University.
Following simple profession, he was assigned as assistant to the director of Campus Ministry, Saint Vincent College, where he has served since 2016.
[Photos: (Top – left to right) Archabbot Martin de Porres Bartel, OSB; Most Reverend Larry Kulick, Bishop of the Diocese of Greensburg; and Father Barnabas O'Reilly, OSB, following Father O'Reilly's May 14 ordination to the priesthood at Saint Vincent Archabbey, Latrobe. (Inset) Bishop Kulick anoints O'Reilly, during his ordination to the priesthood.]