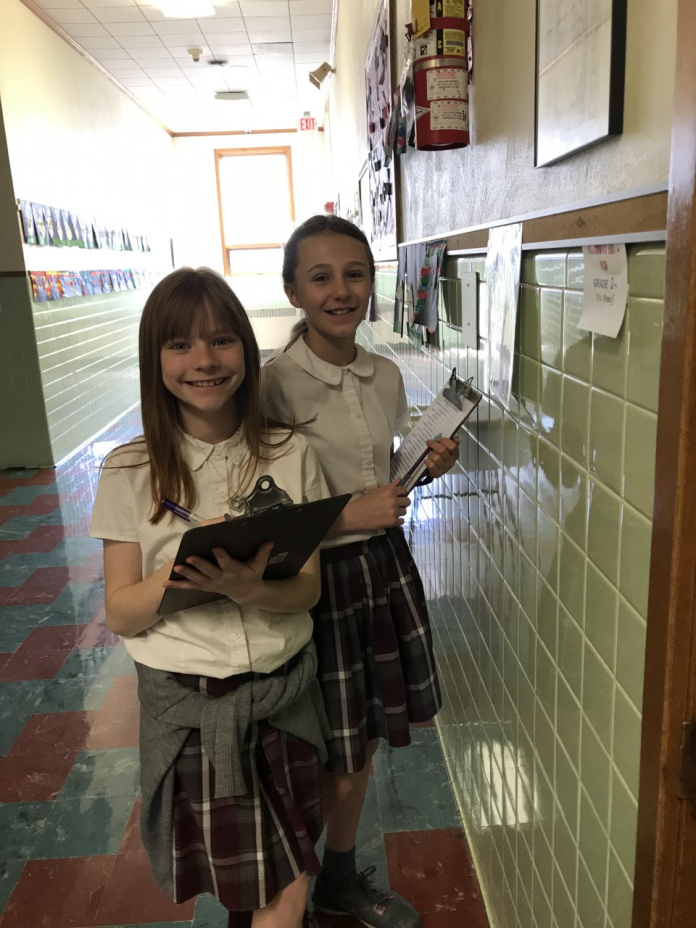 May is moving quickly and is filled with a variety of learning opportunities for the students at Holy Name School, both in their classrooms and at many unique and interesting locations. This column was prepared by Lauren Long.
The fifth graders at Holy Name have been gearing up for a busy month of May. They, along with the seventh graders, have been reading Stepping on the Cracks by Mary Downing Hahn as part of the "One Book, One Community" program sponsored by Penn Highlands Community College. They worked on a writing project with the book, and attended the activity day and met the author on May 13, 2019.
Additionally, the fifth grade participated in a Time Travel in Social Studies and studied the Thirteen Colonies. As part of their journey, they went on an in-school Scavenger Hunt and now they are creating advertisement posters for the colonies.
On May 16, 2019 the fourth and fifth grades will attend the Bishop Carroll High School Field Day. This fun filled day of learning will also give the students an opportunity to meet students from other Catholic schools in the Prince Gallitzin quadrant.
Our first grade field trip will take the students to Quaint Corner Children's Museum in Altoona and Playtime Pottery in Hollidaysburg.  At Quaint Corner, the students will explore three floors of fun. They will play in a giant sandbox and climb a rock wall. They will have the opportunity to dress up and participate in dramatic play, play in a laser room, do science experiments,  and explore in a grocery room and vet room. At Playtime Pottery, the students will paint a magnet and learn about how pottery is baked in a kiln to harden.
Students in third grade will visit the Pittsburgh Zoo and PPG Aquarium for their class trip. Students have been studying animals and their habitats. They have learned about how animals change and adapt to different environments. They have also learned about endangered and extinct animals and have discovered different ways to protect animals and their habitats. Many are hoping to make a difference in the future and to preserve the animals that are on the endangered species list. Students will get the chance to see some animals that were studied in class in real life. The students are very excited to take this trip!
Fifth grade students will become amateur spelunkers when they visit Penn's Cave.  They will participate in a boat tour through the underground cavern learning about cave formation, stalactites, stalagmites, columns, and many others. They will also learn about weathering, erosion, and rock layers and history of the cave.  Students will go on a wildlife tour and also problem-solve and work in teams to complete a scavenger hunt through the "Miners Maze."
This summer Holy Name is offering a variety of fun and educational summer camps for students entering kindergarten through fifth grade. These summer camps include: Getting to Know You Kindergarten camp, The Arts, A Walk in the Park, Crime Scene Investigations, Wizards and Potions, and Amusement Park Engineering. For further information, contact the school office.
Our final quote is a Chinese Proverb: "Learning is a treasure that will follow its owner everywhere."
If you would like to know more about Holy Name Elementary School, visit us on our Facebook page at The Official Holy Name School.
[Photo: Holy Name School Fifth grade student Kaitlyn and Isabella complete a Scavenger Hunt for Social Studies on the "13 Colonies."]