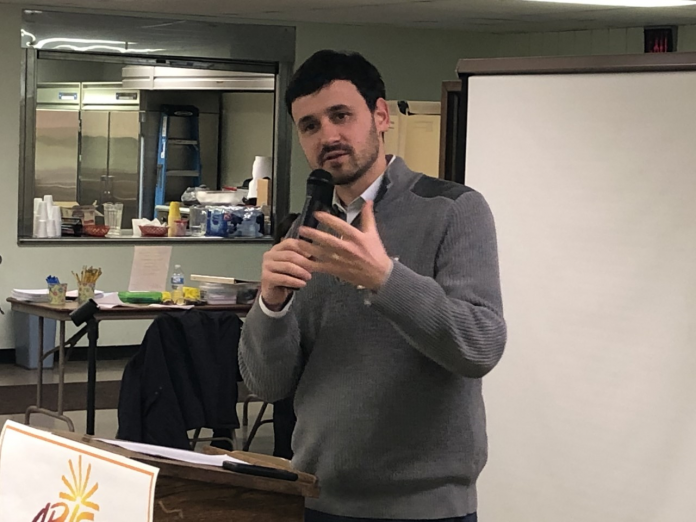 By Tony DeGol
Proclaim!
Peter Ascosi never left the Catholic Church, but he remembers the period in his life when he was – in his words – distant from God.
Years ago, while working in Washington, D.C., he passed Saint Stephen Martyr Parish.
"It was there that I returned to the Sacrament of Reconciliation and encountered the mercy of God," he recalled. "It was a powerful moment of receiving God's mercy and realizing that despite of all of my sins, God still loved me. Jesus Christ is the Face of God's mercy, and that's good news!"
Now working for ChristLife Catholic Ministry for Evangelization in Baltimore, Ascosi shared his personal faith journey and the broader significance of Reconciliation during a convocation kicking off season four of the diocesan renewal initiative ARISE Together in Christ.
ARISE enthusiasts participated in gatherings either on January 25 at Our Lady of the Alleghenies Parish in Lilly or January 26 at Saint Matthew Parish in Tyrone. The convocation theme was "Becoming Ambassadors of God's Mercy and Forgiveness."
During his presentation, Ascosi highlighted four words or terms beginning the letter P. Using examples from his own life, he began with Purpose and how our purpose for knowing God can become obfuscated, which leads to a Problem, or sin, which separates us from God. Provision follows when the Lord can cleanse our heart and spirit, and then comes the individual's Personal Response. 
WATCH highlights of Ascosi's presentation.
Ascosi's talk set the table for the next chapter of our diocese's ARISE journey, which will unfold during Lent. Season four, titled New Heart, New Spirit, will explore the themes of Reconciliation and the transforming power of forgiveness. Participants will also be invited to reach out to those who have moved away from their Catholic faith.
"Maybe this is the season that might be calling somebody's heart to say 'I'm sorry' to someone against whom they've been holding a grudge for several years or to let go of some burden that we've been carrying around in the backpack of our lives for quite some time," suggested Sister Linda LaMagna, CCW, diocesan ARISE coordinator.
ARISE consists of small faith-sharing groups at most parishes in the diocese that meet weekly during each six-week season. Catholic schools, religious education programs, Catholic campus ministry programs, prison ministry, and nursing facilities are also engaged in the renewal.
Those who did not participate in seasons one, two, or three, are welcome to participate in season four.
Click HERE to learn how ARISE Together in Christ has strengthened participants' faith.
Editor's note: See more coverage of the ARISE convocation this Sunday on Proclaim! TV at 10:30 a.m. on WATM ABC 23.
[Photo: Peter Ascosi presenting at the ARISE convocation.]