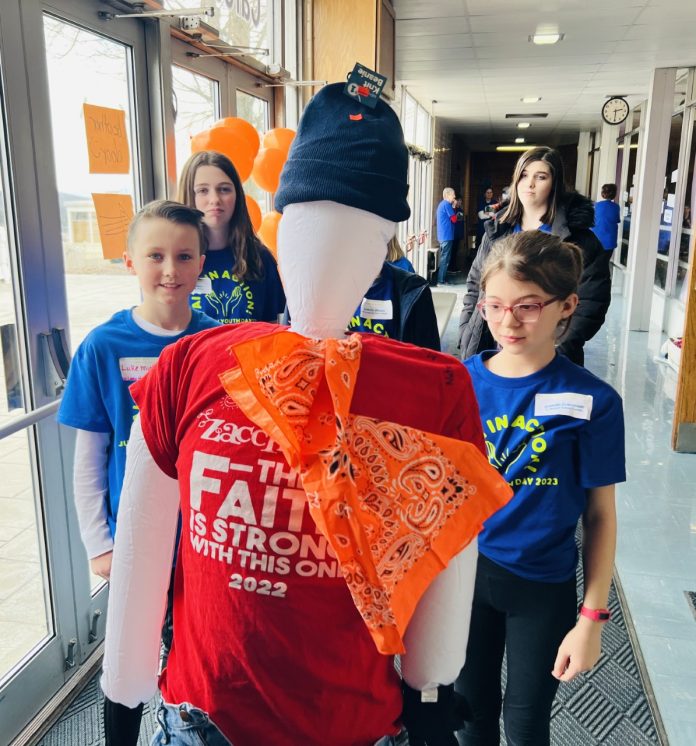 By Tony DeGol
Proclaim!
It might seem hard to imagine young people growing in their faith while frantically adding jeans and a T-shirt to an inflatable doll, but Jackson Henderson is a believer.
"The activities got a bunch of kids together to work together and spread their faith a little bit," he said.
Henderson, an eighth grader from Saint Michael Parish in St. Michael, was among the students who participated in the annual Junior High Youth Day on March 19.
The activities he referenced were all centered on the Corporal Works of Mercy, such as clothing the naked.
Teams of students competed to see who could add clothes to an inflatable doll the fastest.
Other activities included competing in food relay races to symbolize feeding the hungry, crafting houses out of art supplies to represent sheltering the homeless or making cards for the imprisoned or sick – all educational and engaging ways to experience the Corporal Works of Mercy. 
The overall theme for Junior High Youth Day was "Faith in Action."
"If we're telling these young people they need to put their faith into action, some of them might not know how to do that," explained Francine Swope, diocesan coordinator of Youth Ministry. "The Corporal Works of Mercy outline exactly what we, as Catholics, should be doing to live out our faith."
Nationally-recognized evangelist Chika Anyanwu was the keynote presenter for Junior High Youth Day.
Anyanwu said the biggest part of putting faith into action is knowing what your faith is and knowing who Jesus is.
"My first message to them was to tell them how much God loves them and how they were created for something more," Anyanwu stated. "I also want them to know that they have value and dignity, and they are loved. God wants them to know Him, and when they are stirred up through prayer, it has to be put into action."
Another highlight of the day was Mass with Bishop Mark.
For Henderson and the other participants at Junior High Youth Day, the faith journey continues following a day of fellowship and fun.
"I think God is very important," he insisted. "Everywhere I go, I try to show it – in my sports, before all my games I pray to Him. I always try to show my Catholic faith."
[Photo: Students at Junior High Youth Day show off their fully dressed inflatable doll, helping them better experience the Corporal Work of Mercy Clothing the Naked.]