By Tony DeGol
Proclaim!
A remarkable effort by firefighters is credited with saving the church at Holy Family Parish in Hooversville from being destroyed by fire. Flames broke out at the parish complex early this morning. The church, rectory, and social hall are connected on the property.
The rectory and social hall are total losses, and the buildings are being demolished. Firefighters cut vents in the roof to stop the flames from spreading to the church and created trenches on the ground to prevent water from rushing into the worship space. As a result, the church suffered very little damage.
No one was injured, and the Holy Eucharist was removed from the church before any serious threat was posed.
The cause of the fire is under investigation.
It is to be determined how soon Masses will celebrated at the parish. In the meantime, parishioners are welcome at neighboring parishes including Our Lady Queen of Angels Parish in Central City, Saint Anne Parish in Davidsville, and All Saints Parish in Boswell.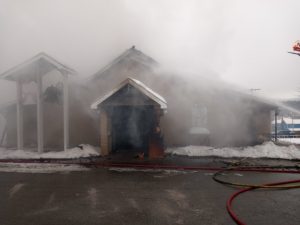 Bishop Mark extends his prayers and support to the faith community of Holy Family, including the parishioners, staff, and the pastor, the Reverend Karl Kolodziejski, OFM Conv.
Holy Family Parish is the spiritual home to about 120 registered Catholic households.