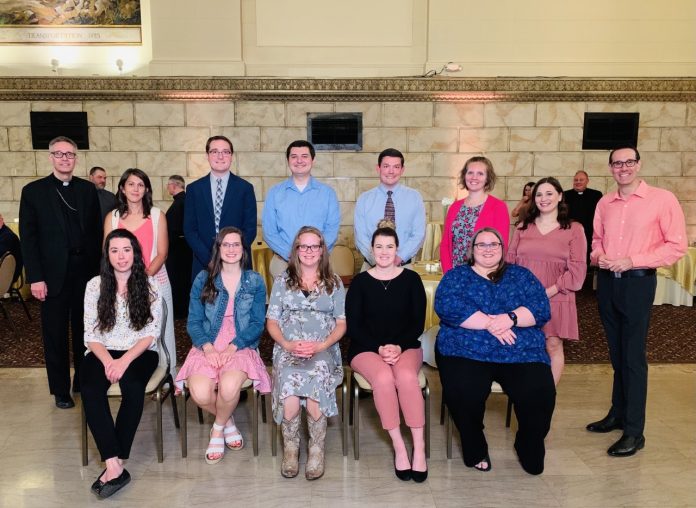 A group of young adults spotlighted in the spring edition of Proclaim! Magazine came together for an evening of fellowship, food, and fun.
Pastors and other parish leaders, along with Catholic school principals, were invited to nominate 20- and 30-somethings alive in their faith and making a difference in their parishes. Those selected were featured as part of the cover story highlighting signs of hope in the Diocese of Altoona-Johnstown.
"We hear a lot about young adults who do not attend Mass regularly or at all," explained Tony DeGol, Diocesan Director of Communications and Executive Editor of Proclaim! Magazine, about the idea for the feature. "Priests lament the situation, and mature parishioners often voice disappointment about it. Granted, it is a legitimate concern, and the Catholic Church is wise to address it. I believe, however, that we should not be so focused on the 20- and 30-somethings who are not in the pews, that we overlook the ones who are."
The 14 Proclaim! Magazine young adult honorees are:
Nick Astle — Our Lady of Victory Parish in State College
Tori Boland — Saint Monica Parish in Chest Springs
Kelsey Deighan — Saint Michael Parish in St. Michael
Nicole Eckenrode — Holy Name Parish in Ebensburg
Rita Kalwasinski — Holy Family Parish in Portage
Alexa Kline —  Saint Nicholas Parish in Nicktown
Rebeca Lee — Holy Family Parish in Portage
Nancy McMullen — Saint Nicholas Parish in Nicktown
Jenna Moratti — Holy Family Parish in Portage
Amy Nagle — Saint Augustine Parish in Dysart
Samantha Pope — Our Lady of Mount Carmel Parish in Altoona
Sarah Steinbugl — Saint Mary (Immaculate Conception) Parish in Altoona
Eric Tedjeske — Saint Michael Parish in St. Michael
Ryan Woodruff — Saint Francis of Assisi Parish in  Johnstown
In celebration of the young adults highlighted in the magazine, all of the honorees, their guests, and their pastors were invited to a social evening with Bishop Mark, priests, and diocesan seminarians on June 3 at the Columns in downtown Altoona. The event was generously sponsored by the Bruno and Lena DeGol Family Foundation and the Independent Catholic Foundation.
"We are especially grateful to both foundations for enthusiastically partnering with the diocese to celebrate these young adults who are not only on fire with their Catholic faith, but also sharing their time and talent to help build up the Church," DeGol said.
During the social, DeGol recognized each of the 14 honorees and their pastors. Bishop Mark also offered his congratulations and encouragement to the young adults.
Highlights of the event will air during an upcoming special edition of Proclaim! TV.
[Photo: Proclaim! Magazine young adult honorees pose at a June 3 social (front row, left to right): Amy Nagle, Saint Augustine Parish in Dysart; Tori Boland, Saint Monica Parish in Chest Springs; Nancy McMullen, Saint Nicholas Parish in Nicktown; Nicole Eckenrode, Holy Name Parish in Ebensburg; and Sarah Steinbugl, Saint Mary Parish in Altoona. (Back row): Bishop Mark; Kelsey Deighan, Saint Michael Parish in St. Michael; Eric Tedjeske, Saint Michael Parish in St. Michael; Nick Astle, Our Lady of Victory Parish in State College; Ryan Woodruff, Saint Francis of Assisi Parish in Johnstown; Alexa Kline, Saint Nicholas Parish in Nicktown; Samantha Pope, Our Lady of Mount Carmel Parish in Altoona; and Tony DeGol, Diocesan Director of Communications and Executive Editor of Proclaim! Magazine. Absent are honorees Rita Kalwasinski, Rebecca Lee, and Jenna Moratti, all members of Holy Family Parish in Portage.]