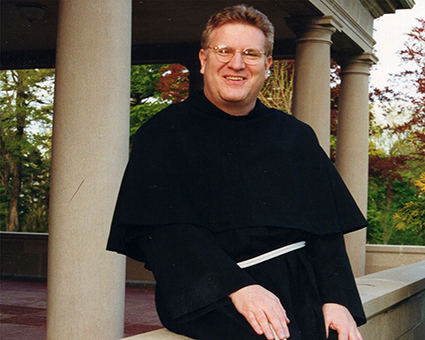 Brother Mark McBride, T.O.R., 68, a member of the Third Order Regular of Saint Francis, Province of the Most Sacred Heart of Jesus, died on Sunday, January 23, 2022, at Residenza per Anziani Golden Heart in Rome, Italy. The Most Reverend Amando Trujillo Cano, and other friars residing at Convento Ss. Cosmas & Damian, cared for, and visited him regularly in the weeks and days prior to his passing from this life, supporting him with prayer and the sacraments of the Church.
Born on July 31, 1953, in Pittsburg, CA, the son of the Richard and Rosemary (Leber) McBride, he was given the name Patrick John. After graduating from Cordova High School in Rancho Cordova, CA, Patrick entered the Third Order Regular as a postulant in August 1971 in Loretto, PA. Nine months later he began his novitiate year on May 31, 1972, at which time he was invested in the Franciscan habit and received his religious name Brother Mark. He professed first vows on June 1, 1973, and at the end of his initial Franciscan formation, he professed Solemn Vows on June 1, 1976.
Following his solemn profession, Bro. Mark served the Province and the Order in different roles including Assistant to the Director of Vocations; member of the faculty and later Principal of Bishop Egan High School in Fairless Hills, PA; Local Econome at St. Anthony Friary, Fairless Hills, PA and later Mount Assisi Friary, Loretto, PA; Provincial Econome for the Province; member of the Provincial Council; taught Continuing Education courses at Saint Francis College, Loretto; Local Minister and General Econome for Ss. Cosmas & Damian in Rome; and Administrative Assistant to the General Curia in Rome.
In addition, at various times Bro. Mark served on the Board of Trustees for Saint Francis University and the Franciscan University of Steubenville in Ohio. He also served as Chairman of the Board and later as Secretary/Treasurer of the American Parish Youth Center, Inc. Finally, he also served as President of the Managerial Board of the Kartause Maria Thronus lesu Foundation in Gaming, Austria.
Bro. Mark earned an Associate Degree in Business Administration at Mount Aloysius College in Cresson, PA; earned a Bachelor of Accounting degree as well as a master's degree in Educational Administration from Rider College in Trenton, NJ. In 2019, he also was the recipient of the Blessed Raymond Lull Medal in recognition of his long and outstanding service to the Order and the Province.
Bro. Mark is preceded in death by his parents, and is survived by his brother, Scott McBride, sister-in-law Carol and their children Taylor and Richard of Charlestown, SC, numerous cousins, and other relatives, as well as his Franciscan Community.
A Mass of Christian Burial will be celebrated for Bro. Mark on Wednesday, January 26, 2022, at 11:00a.m. (Rome time) at the Basilica of Ss. Cosmas & Damian. the Funeral Mass for Br. Mark McBride will be streamed live on YouTube via this link: https://youtu.be/I2yRDd9NLnM. At Bro. Mark's request, his body will be interred in a cemetery in Rome. A Memorial Mass will also be celebrated at Saint Francis Friary Chapel in Loretto, PA on Saturday, January 29, 2022, at 11:00 a.m. (EST) In lieu of flowers, gifts can be made payable to the American Parish Youth Center, Inc. at P.O. Box 1897, Cresson, PA 16630. For the full obituary, visit the Franciscans T.O.R. website at www.franciscanstor.org/brothermark