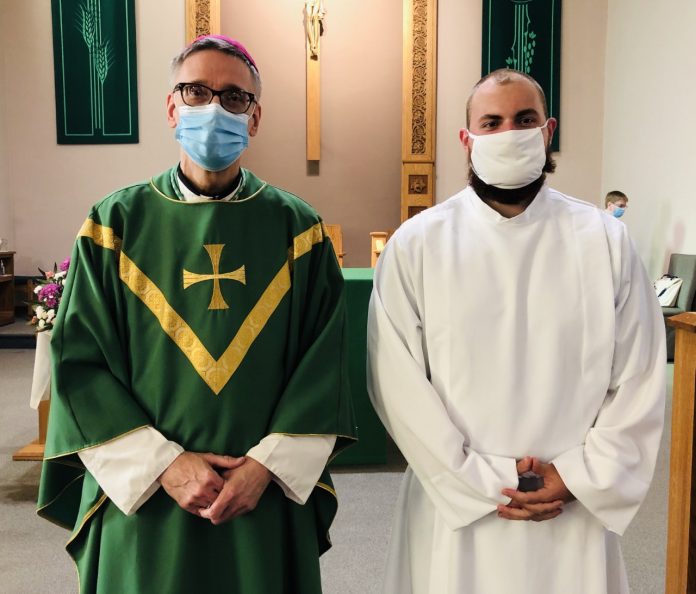 By Tony DeGol
Proclaim!
With a great summer assignment under his belt and another key milestone in the books, one word summarizes the feelings of diocesan seminarian Brian Norris: peace.
Bishop Mark formally admitted Norris to Candidacy during a Mass on July 25 at Norris' home parish of Saint Mary in Hollidaysburg.
"I feel very peaceful and blessed that I was able to be received as a candidate," remarked Norris just moments after the Mass. "I'm looking forward to going back in the fall in the seminary and continuing my formation."
Candidacy is another formal step in a seminarian's path toward ordination as a transitional deacon and then a priest.
The brief Rite of Candidacy ceremony is a public declaration from the seminarian that he is resolved to complete his preparation for the Sacrament of Holy Orders and to be a faithful servant for the Church.
"These are questions he has already begun to ask himself in a way in which he has discovered how and what God will ask of him in his life," Bishop Mark explained. "It is important as part of his journey that he make some formal declaration, not simply so that he can hear it, but he needs to make it for the sake of everyone to hear. It is a reassurance from our God that we are not left without and that God will provide for us."
The Bishop urged those in the pews that afternoon to open their hearts and minds to the call of the Lord.
"Our Church needs good leaders, and I'm proud to have the men who are in the seminary for our diocese at this time, and I'm proud to have Brian come forward to make his declaration today," he said.
Norris attends Saint Mary's Seminary in Baltimore and is scheduled to be ordained a transitional deacon next year and a priest in 2022.
This summer, he was assigned to Our Mother of Sorrows Parish in Johnstown, where he was fully engaged in the life of the faith community.
"I've had a really peaceful experience there," he admitted. "I've had a lot of time for prayer, and also I've been able to work with some of the youth in the parish. It has been really awesome."
On hand for the Rite of Candidacy were the other diocesan seminarians, including two transitional deacons scheduled to be ordained to the priesthood next year.
Norris' parents and siblings joined him in the front pew for this special milestone.