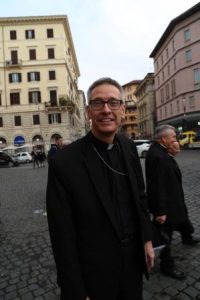 Bishop Mark is spending this Thanksgiving week in Rome for an Ad Limina visit and will meet with Pope Francis on Thanksgiving Day.
Joined by the other bishops of Pennsylvania and New Jersey, the week also includes the daily celebration of Masses at Basilicas including Saint Mary Major and Saint John Lateran, as well as a series of meetings with various congregations at the Vatican.
All bishops around the world are required to make Ad Limina visits — officially known as the "Ad Limina Apostolorum," or "to the tombs of the Apostles" — every five years. Besides the meeting with the Holy Father and the various other meetings, the bishops also pray at the tombs of Saint Peter and Saint Paul.
For additional photos and updates on Bishop Mark's Ad Limina visit, check out the Diocese of Altoona-Johnstown on Facebook.
[Photos: Bishop Mark at Mass at Saint John Lateran Basilica (top). The Bishop poses on the streets of Rome (inset). Photos courtesy of Anne-Marie Welsh.]