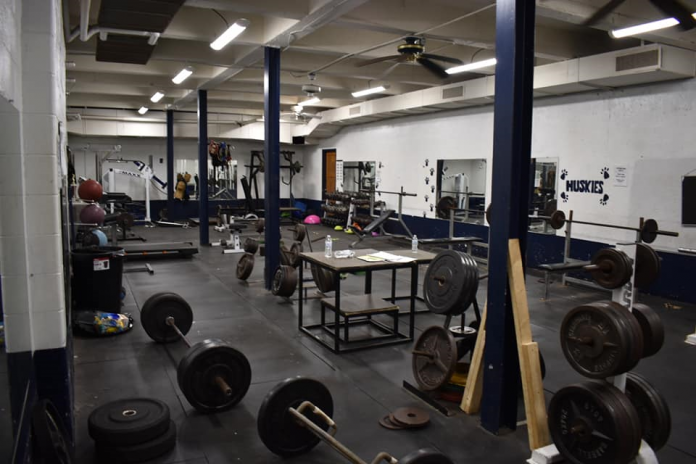 By Tony DeGol
Proclaim!
Oprah Winfrey once said, "To move forward, you have to give back."
As the clock ticks toward graduation, seniors at Bishop Carroll Catholic High School in Ebensburg are pumped about providing future students the opportunity for better health and fitness.
Every year, students from the AP U.S. Government and Politics class launch a project to improve the quality of their school or community.
This year, the seniors are breaking a sweat by transforming the BCCHS weight room into a more complete wellness center.
"Our class has been very active in sports, clubs, activities, and personal health," explained student Jarrett Grove.  "We want to pass on that legacy to the younger students and inspire them to get involved in their school and take a healthy approach to life."
Phase one of the project includes cleaning, painting, and reorganizing the facility, which should be finished by the end of the school year.
The TLC is long overdue since the space has not seen significant enhancements in more than two decades.
With assistance from physical education teachers and coaches, the next phase will involve adding new equipment and developing healthy workout and nutrition plans.
Local gym operators and nutrition experts are getting the students shaped up with advice, and the kids are hoping others will also spot them.
"Health is a community effort," reminded student Emily Cunningham. "For the success of this project, we rely on the support of many, including those who can donate towards the cause, specifically alumni and local businesses."
To help raise money for the project, students are selling T-shirts featuring a Huskies Athletics logo. Cotton shirts are $15; dri-fit shirts are $17. To purchase one, contact any of the students or the school office by April 12.
"This is going to leave an impact on so many people," Cunningham added. "Every student who comes to Bishop Carroll in the future is going to use this weight room for every sports program, and even if you're not in a sport, it's important to stay fit and healthy."
Sports training and personal workouts begin in the weight room, explained senior Trevor Hogue.
"Providing our students with a good facility and a good place for them to go and really work hard, it's definitely going to leave a mark on future seasons and sports at BC," he said.
Student Victoria Wirfel is getting in step with the project because she believes a healthy lifestyle leads to a better overall mindset.
"If you feel good, you will show that in your actions with your success in school and at work," she stated. "I think that's the ultimate package."
At a school that celebrates the motto "Spirit, Heart, Mind, and Body," this student-led effort is especially gratifying for the educators who helped shape these forward-thinking teens.
"I'm just so proud of this class," remarked Jonathan Nagy, BCCHS teacher and project moderator. "They have extreme dedication to this school. In the four years that they've been here, they love this school, and to see them as future graduates and alums who have the dedication to leave it in a better place than they found it, it's truly inspiring. I wish all students everywhere could learn a lesson from these children."